Heavy-Duty Pneumatic Die Lifters
October 1, 2013
Pacesetter Systems
Booth S4307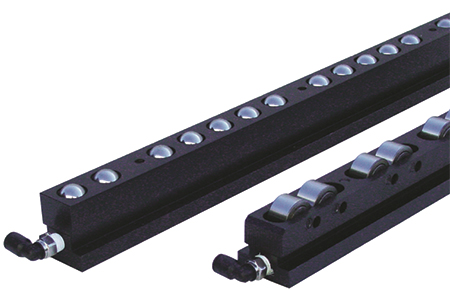 Pacesetter Systems, Inc., Valencia, CA, introduces its Air Glide heavy-duty pneumatic die lifters, available with ball bearings for multidirectional movement or cylindrical bearings for inline movement. Both models feature extra-large, precision-ground bearings and high quality o-ring seals to optimize lifting efficiency and durability, ensuring quick and safe die changes. Only 40 lb. of force is required to move a typical 2000-lb. die.
Air Glide lifters use standard shop air pressure and install easily in standard ANSI T-slots. Because they have no internal air bags or bladders to corrode and crack, the rollers reportedly are more resistant than other pneumatic rollers to the harsh chemicals and lubricants used in metal stamping.
Air Glide die lifters are available from stock in 5⁄8-, ¾- and 1-in. sizes in lengths to 72 in.; custom lengths and metric sizes are available.
See also: Pacesetter Systems
Technologies: Tooling