QDC Success for Munitions Plant
September 1, 2017
A U.S. Army-owned facility produces a range of projectile parts for artillery systems, and handles 100 percent of its steel-manufacturing processes inhouse. The 100-plus-year-old facility, one of the most technologically advanced plants in its early years, had undergone renovations over time to adapt to changing products and technologies.
Recently, with new work and limited shop-floor space, and the need to address time-consuming changeover of press tooling weighing in excess of 15,000 lb., the facility sought a quick-die-change (QDC) remedy.
Challenge: Reduce Die-Change Time from Days to Hours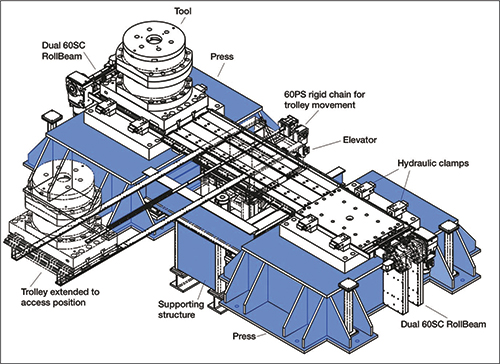 This schematic shows the layout of a munitions manufacturer's new quick-die-change system, which has reduced changeover time from days to less than a single shift while overcoming challenges related to press-cell configurations and space limitations.

Munitions production features long press runs with infrequent tool changes. Within the facility, heavy tooling was brought piece-by-piece to be assembled in the press, a days-long process. Taking on additional work would require more-rapid tool changes between production runs. The ideal solution would involve moving tools into and out of the presses fully assembled, but the building, limited in space, would not allow that. As a result, QDC installation would require low-impact methods with minimal construction.

But working within the existing infrastructure presented many problems. The assembled tools weighed approximately 16,000 lb., and when combined with the weight of the equipment needed to move them, the engineered flooring covering the press pit would not support the load.

Restricted space presented another problem: Presses contained in the facility's workcells did not offer enough space between them for navigating a forklift carrying the fully assembled tools. And, the presses rose several stories, which eliminated the option of employing overhead cranes to assist in die changeover. In addition, bed/bolster heights measured 6 in. below floor-level, and a common aisle capable of supporting tool and equipment weight was located several yards away.