To hone its die-change processes and procedures and become more consistent, the pressroom conducted a week-long exercise, created spaghetti diagrams, and looked to identify and eliminate waste in the process. The results of that kaizen event became evident in a study of press overall equipment effectiveness (OEE). "We were able to reduce that setup-time variation by 35 percent," Hammond says, "and improve OEE by 17 percent."
Retrofit Success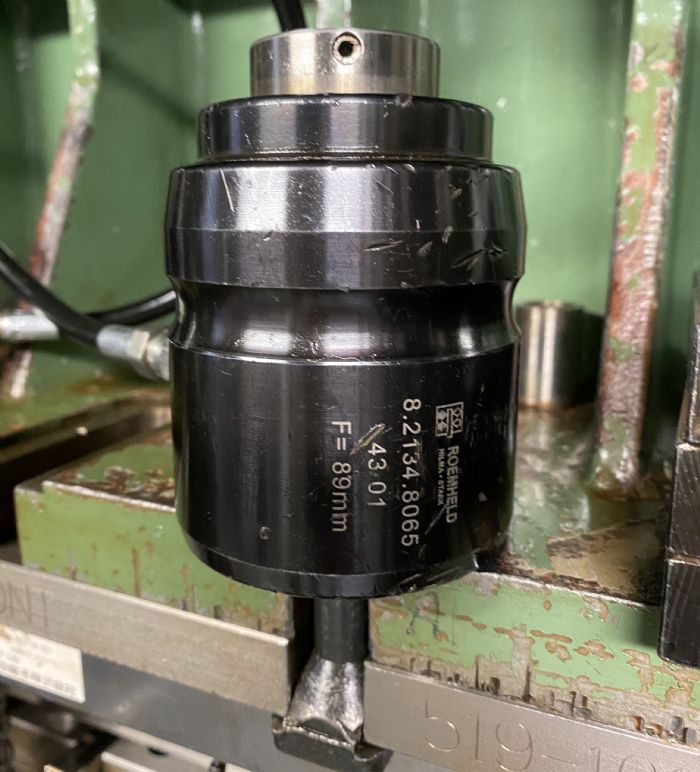 With its QDC process standardized and optimized, including adding standard top plates to its dies and V-blocks to press rams to enable quick and repeatable die locating, attention turned to retrofitting hydraulic clamping onto one of the older presses. First up: a 40-ton press that experiences, due to its product mix, three to four die changes per day.
"There are a lot of options when it comes to evaluating clamp styles and sizes," Hammond says. "We sought a supplier who could come in and educate and collaborate with us, to help us understand the different clamps available and ensure that we matched the right equipment to the application."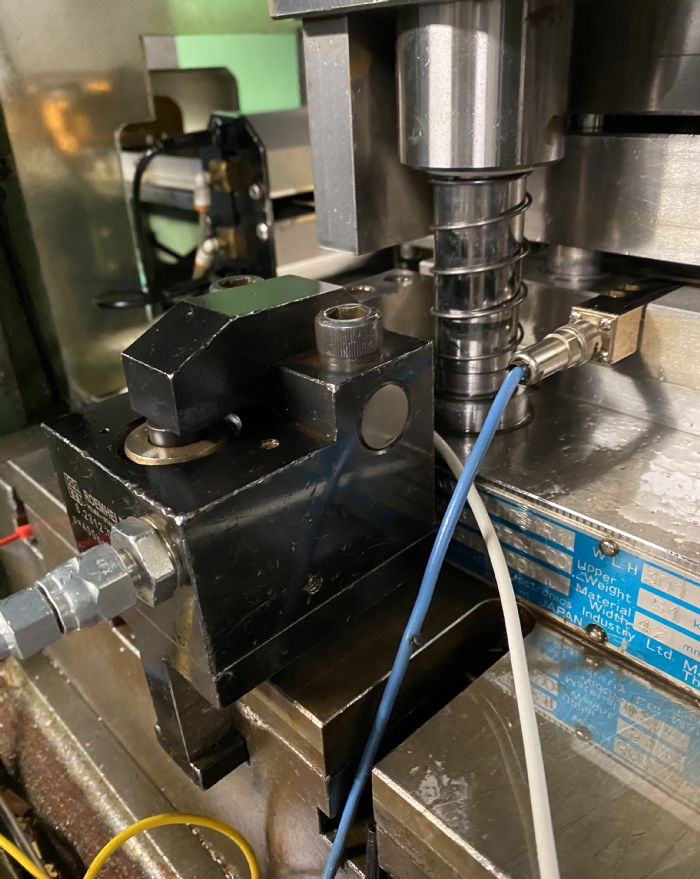 In the end, JAE Oregon selected Hilma clamps (from Carr Lane Roemheld), going with a single-acting spring-return hollow piston cylinder clamp for the top die (60-kN clamping force at 400 bar, 12-mm stroke). For the bottom die, Hilma recommended an angular single-acting spring-return clamp assembly (40-kN clamping force at 400 bar, with a 5.5-mm total stroke and 2.5-mm clamping stroke), which, "due to their manageable and rounded design," according to company literature, makes the clamps "especially suitable where space is limited and with small clamping edges."
"Collaboration among our engineering team and Hilma's really led to the success of this project," Hammond says, which completed in January 2018. "Downtime due to die changes on that press have been reduced by 38 percent, and our cost-justification analysis shows an 18-month return-on-investment for the clamping retrofit. We'll be looking to retrofit some of our other presses—those that see the most frequent changeovers—in the near future."
Die Readiness Contributes to More Efficient Changes
Ensuring continuous improvement in OEE and die-change times has the pressroom and die shop at JAE Oregon also focused on die readiness—more precisely, on preventive and predictive maintenance (PM) rather than corrective maintenance.
"We started down this path in 2012," Hammond says, "and for the last 3 years in particular have experienced remarkable and consistent results in terms of die readiness. We deployed very aggressive PM schedules to ensure that we repair or replace tools short of failure and, therefore, avoid the excessive costs associated with running worn tools (poor product quality) or having the tools break while running in the press, including unplanned downtime.
"From the beginning of the journey up until today," he continues, "we have reduced the ratio of corrective-maintenance work orders to PM work orders by 92 percent. Focusing on PM has made a tremendous impact in avoiding production disruptions and allowing us to plan our maintenance activities more efficiently." MF
See also: ROEMHELD North America
Technologies: Tooling