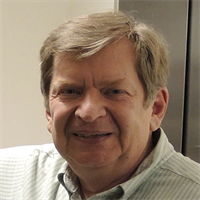 George Keremedjiev
One-Finger Quick Die Change (QDC)
January 1, 2010
No, it is not a typo. This column will showcase a spectacular QDC process that fully and totally achieves true QDC with one-finger control. This system was designed, developed and implemented at Marwood Metal Fabrication in Tillsonburg, Ontario, and is one of its superb sensor-based technologies that will be presented in this column. To place the one-finger QDC process within context, it is important to first understand the foundation upon which it was built. Namely, a superb corporate-wide and mistake-proofed manufacturing system. Driven into a sharp focus by Chris Wood, the company president, its manufacturing culture is never satisfied with the status quo.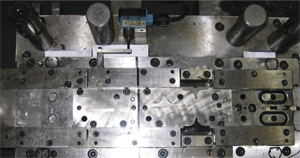 Fig. 1—Die T-89 Before
The following comments are based, in part on remarks made by Jake Fehr, sensor applications specialist at Marwood Metal Fabrication. "Fully sensored dies lead to many great and wonderful things such as presses running much closer to their maximum speeds," says Fehr. For example, one of Marwood's dies, known as T-89, a two-out die that used to run at 30 strokes/min. with an operator at full alert watching the formed metal cups exiting the die, is now fully sensored including the feed, part out and slug detection. It now runs well at 70 strokes/min. and there is no operator standing in front of the press with their hand hovering over the E-stop button.
In Fig. 1, taken shortly before the T-89 die was retrofitted with electronic sensors, a micro switch short-feed detection mechanism is visible at the top. The die was thoroughly analyzed and marked up as needed during brainstorming sessions between the sensor department and the toolmakers.
Thorough sensor monitoring was implemented for short feed detection, part ejection (two sensors mounted within the dual track exit ramp as seen in Fig. 2) and slug detection with stripper monitoring towers incorporating sensors. The sensor cables were carefully buried within the tooling and routed to the centralized connector box as seen in the upper left of the photograph.
Fig. 2—Die T-89 After
Die T-89 Payback:
1) The average die speed increased by 25 percent.
2) The die runs unattended without constant operator vigilance or attention.
Parallel Press Enhancements:

To maximize the running speeds of fully sensored dies, a careful study was done to assess the stopping times of the presses that were used to run the newly minted die sensor applications. It was determined that the brakes on the presses were not fast enough to halt the die at fast running speeds—even though the electronic sensors detected a problem. This was solved by augmenting the braking mechanisms with secondary brake installations that dramatically shortened their stopping times. Thus the full-sensored dies now could be run on these presses at maximum safe running speeds.
Fehr notes that, "We have done brake upgrades on five presses, and are planning to do a sixth one this holiday season. Our press number 7, a 150-ton Clearing, saw its speed increase from 60 to 75 strokes/min. after a brake upgrade. These facts and the supporting data are als tested and confirmed to be safe before the die information is passed on to production."