Die Extensions and Clamps
March 1, 2008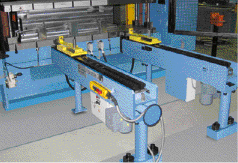 Optima USA, Inc., Elm Grove, WI, showcases its new CMW line of motorized die extensions that make single-person die changes possible for large and heavy dies. The extensions can handle die lengths to 192 in. and weights to 27 tons, and can be fixed to a press for dedicated use or supplied with rollers for multiple-press applications.
In addition, the company has introduced two unique die-clamp models, both designed for difficult clamping applications that had previously required die standardization. The HKZ T-bolt clamp, with a through-bolt design, can adapt to a variety of die-clamping heights. This design is ideal for a variety of tools and can be used without costly die modifications. The HEE C-frame clamp is designed for tools using a flat clamping surface without U-shaped cutouts. The C-frame offers a generous die opening for die-shoe thickness variations. It can be used directly on the die surface or with an adapter plate, or to secure the surface of a parallel.
See also: Optima USA, Inc.
Technologies: Tooling