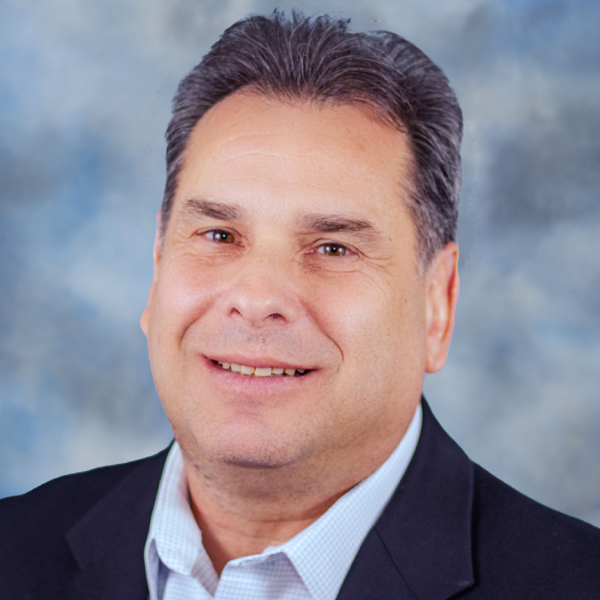 Brad Kuvin
Slitting Line Out; Transfer Press In
December 1, 2012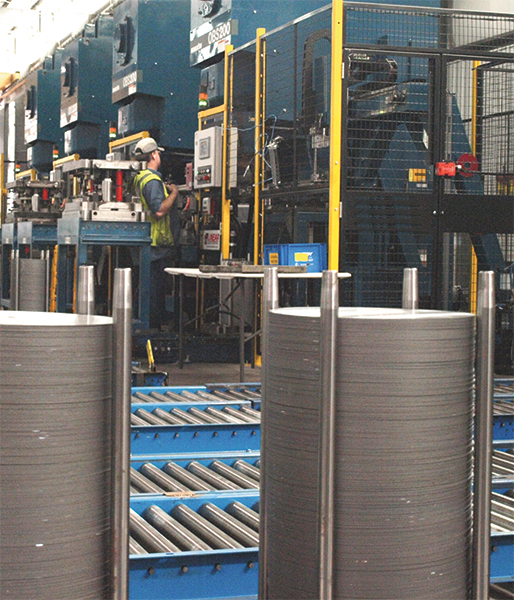 A Tennessee Steel operator prepares the four-press transfer line to stamp torque-converter supports, from 295-mm blanks of 2-mm-thick steel. The job requires seven press stations, so it runs in two setups—stations one through four run right to left, beginning with an automatic blank feeder; following a die change, the parts run in reverse through die stations five through seven, left to right.

Between stations one and two, the transfer system rotates the blanks 180 deg. and flips them over. Watch the line run, and get a look at the blank rotation-and-flip setup.

In 2005, Tier One automotive supplier Exedy Corp. asked its steel-service center, Kentucky Steel Center, to open a new service center right next door to its production facility in Mascot, TN (near Knoxville). Plans for that facility, named Tennessee Steel Center, included warehousing of steel coils and processing on a fully equipped slitting line.

You know what they say about best-laid plans, and at Tennessee Steel Center those plans took a sharp right-angle turn beginning in 2007. That's when Exedy, in need of stamping capacity, asked the service center to forego plans to install a slitting line and instead install a blanking press. That 600-ton press, a Seyi model, was tasked with feeding Exedy's stamping presses with blanks of 1- to 3.6-mm-thick steel (primarily HR400 and HR440), to support production of torque converters and other transmission components.

The Plot Thickens

The plot thickened in 2010, when Exedy found it needed more than just blanking capacity—now it needed additional stamping capacity. Specifically, it asked Tennessee Steel to support its production of torque-converter stampings, by buying a transfer press to take on a set of dies being shipped across the pond from Japan.

"We looked at buying a transfer press, and it was too costly for what Exedy wanted us to do," recalls Ivan Price, Tennessee Steel's general manager. "So we looked for an alternative solution."

That solution came early in 2012 in the form of four 200-ton Komatsu gap-frame presses linked by a servo-transfer system, from Linear Transfer Automation, Barrie, Ontario, Canada. In fact, Linear Transfer, along with its distributor Production Resources Inc., completed the entire turnkey project for Tennessee Steel, including a blank destacker, die carts (two per press), quick-die-change apparatus (hydraulic clamps, lifters and bolster extensions), safety light curtains, magnetic conveyors, electric scrap shakers, and even a new press foundation.



A press operator visually inspects each support as it exits the line, at a production rate of 13 parts/min. When the firm replaces magnetic transfer tooling with grippers and shovel-style tools, it expects to be able to kick throughput up by at least a few parts/min.
"Compared to the quotes we got for a transfer press, the solution we purchased from Linear Transfer and PRI cost us about half," says Price.
Rounding out the plant's equipment list: three overhead cranes (one 25-ton model and two 10-ton cranes), a few forklifts and a truck and trailer rig.
A Workhorse
The transfer line runs two shifts/day producing three torque-converter part numbers for Exedy—turbine and impeller cores, and torque-converter supports. A fourth part number is slated to make its to the line early next year—turbine shells—which will require running the transfer line around the clock. Of the firm's 18 employees, four are trained on the transfer line. Two work the line at a time. Blanks feeding the transfer line come from the plant's blanking press, and account for 20 percent of that press's output; the remainder of the blanks gets shipped up the hill to Exedy.
"The cores are the easiest to run on the line," says Price. "They are small (183-mm-dia. blanks), from 1-mm material and are lightweight. These take only three press operations, and here's where the custom engineering provided by Linear Transfer really helps. They engineered the line so we can place an outbound conveyor anywhere between the presses, to remove parts from the line. We have the conveyor mounted on casters so we can easily move it along the line, to any of three stations where we typically pull parts off, depending on the job."
Dies are on a customer-specified preventive-maintenance schedule. "We send the transfer-line dies up to Exedy for inspection and maintenance after 60,000 hits," says Price.