"Many applications involve more exotic materials that are difficult to form and require dwelling or restriking," says Ellard, citing an example where servo presses shine. "For a die with a form in it, a servo press can slow down the slide speed through that form and dwell so that the material flows more effectively and sets. With a traditional mechanical press, your slide-motion profile cannot be changed during the press cycle. So, a form that requires a slower slide velocity means that the press must run the entire cycle at that slower speed.
"Servo presses allow increased speed to the point of the form and after, with a slow speed and/or dwell through the form," Ellard continues. "The result is improved forming and increased productivity."
Find the Right Fit
Drawing, high-tensile-strength stamping and blanking all offer opportunities for improvement via servo-press technology. But the decision is not so clear cut, according to Jim Schulte, general manager of sales and administration at Nidec Minster Corp., Minster, OH.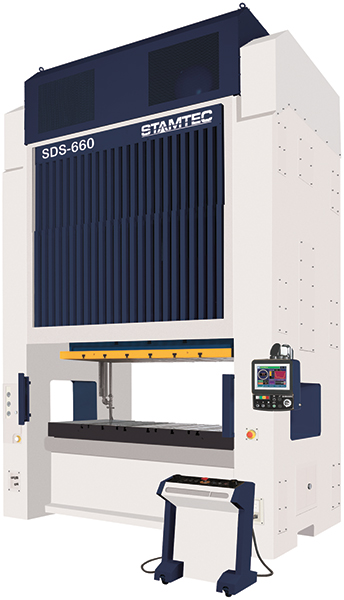 Economical link-assisted servo presses, such as this model from Stamtec, use links or toggle mechanisms that combine with servo motors and conserve energy.

"Suppose that in a specific application the use of a servo press can minimize impact forces and the subsequent snapthrough forces, by slowing down the ram at the point where the punch contacts the material," he explains. "That is a benefit. But the tradeoff might be that the time consumed during the working part of the stroke results in less net output, because a stamper can't feed the part as quickly due to a slowdown in the ram speed."

In these cases, an integrated servo solution may be the answer. Or, perhaps a traditional mechanical press is the safest and most economical route. There are other factors to consider as well.

"Servo-driven presses are more complex than mechanical presses," Schulte says. "You have the servo motor and you have eliminated some of the mechanical components, but on the other hand you have a much more sophisticated electrical control system that routes more of your investment dollars into the controls and less into the mechanical systems. So you have to be prepared to support that."

But as Nidec-Minster and others continue to offer updated servo technology, metalformers will continue seeking servo solutions.

With that in mind, Nidec Minster has been developing servo-press technology for several years. The company installed its first servo-driven press about three years ago, a P2H-FX model. That line offers capacities of 63, 100 and 160 tons and provides high speed —upwards of 250 strokes/min. One recent installation of this press points out the capabilities and potential benefits of servo technology and integrated systems in general.

"We installed a complete press system, with material feed intricately timed to slide position," explains Schulte. "At a critical point in the operation, a form required the press to run at a speed of 80 strokes/min. Outside of that point, it accelerated to 250 strokes/min., providing a net speed of about 140 strokes/min. A mechanical press would have to run the entire cycle at 80 strokes/min. to correctly form the part. So, by using a servo press for this application, productivity has been nearly doubled. When you time all of the auxiliary equipment, such as a servo feed, servo transfer and other automation, the ability to manipulate slide position and ram speed provides opportunities for productivity increases."

Since introducing the P2H-FX, Nidec Minster has come out with its FX2 line of servo-driven straightside models in capacities to 1200 tons, built on the Nidec Minster HeviStamper platform. Servo motors powering the twin end drives of these presses feature liquid cooling. Reported advantages of this technology, according to company officials, include cooler operating temperature and less heat transfer to the press, resulting in longer motor life and a more stable production environment. As a closed system, it reduces contaminant infiltration as compared to open and air-cooled systems. The motors tie to an energy-management system designed to optimize energy usage during production.

Other features include a hand-wheel setup mode, allowing users to precisely position the slide during setup and die tryout. Minster's Production Management Control programming provides simplified integration with coil-line components, and a user-friendly operator interface consistent with mechanical-press offerings, increasing productivity by reducing training requirements. Innovations such as these in servo presses force metalformers to dig deep in examining applications for their use as compared to tradition mechanical presses, explains Schulte.

"The technology is application-specific and has great opportunity in unique applications," he says. "Historically, stampers would label themselves as progressive- or transfer-die stampers, but servo-drive presses provide more flexibility. This increased flexibility provides opportunities to broaden markets or create optimized solutions in specific applications. Running a job at 140 strokes/min. versus 80 is a big deal. Overall, metalformers look at what they do uniquely, and search for a solution. Servo technology can be that solution."

So Much More to Servo

Servo presses have huge untapped potential in North America. Metalformers are traveling the learning curve, as are die designers and builders as well as part designers, specifiers and OEMs.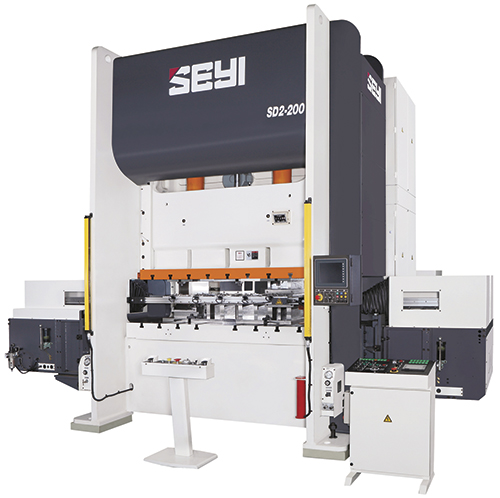 Precision and productivity in forming via servo-press technology requires special attention to press design and build. That means focusing on the drive, electrical system and press construction, as is the case with this 200-ton-capacity unit from Seyi.

"In North America, we are using servo in a limited ," says Randy Kish, regional sales manager for Seyi America, Inc. "Popular uses include heavy blanking—often with advanced-high-strength and dual-phase steels—and essentially creating a high-performance link-motion profile and operating in a pendulum mode. This allows for slowing on the down stroke with a pendulum motion negating the need for a full-stroke cycle. The result is a 20 to 30 percent increase in productivity."

Such gains are impressive, but so much more is possible with a servo press. Toward that end, Seyi has assembled a servo-forming team, including tooling expertise, to help metalformers tap the technology's potential. The company can assess customer part drawings to determine efficiencies via better application of a servo press. The team also works with tool designers and builders.

Seyi conducts testing to demonstrate more sophisticated approaches to forming via servo presses. One operation obtained through this process creates a bevel-like edge on a female part that mates perfectly with the male part, with no secondary operations required.

Precision and productivity in forming via servo requires special attention to press design and build, according to Kish. With that in mind, Seyi has focused on the drive, electrical system and press construction in its offerings, which include unitized straightside units in capacities to 600 tons, and tie-rod straightside units to 1200 tons.

The company uses its own proprietary high-torque, low-rpm, air-cooled motor for direct-drive transmissions.

With many users hooking in accessories to form a press system for continuous automated stamping, the electrical system in general, and the encoder specifically, must mesh. The encoder should connect easily and connections should be accessible and convenient, according to Kish. And the controller should provide programmability in order to set parameters and motion to match the servo profile of the system. As a result of attention to these components, timing switches can be programmed precisely with peripheral equipment, ensuring optimal performance, says Kish.

As far as press construction, Seyi has addressed that by using a unitized frame with honeycomb construction that improves rigidity and the ability of the press to handle off-center loading. The company's servo presses, through attention to rigidity and frame design, boast reduced clearance, meaning improved precision and less rumbling or play in the linkages that can sap operation energy, damage the press and create bad parts.

MF

Industry-Related Terms: Die

,

Blanking

,

Case

,

Center

,

Drawing

,

Edge

,

Form

,

Forming

,

Mesh

,

Model

,

Point

,

Ram

,

Run

,

Staking

,

Stroke

,

Tapping

,

Torque

,

TransferView Glossary of Metalforming Terms

See also: Stamtec, Inc., Nidec Press & Automation, SEYI America, Inc.

Technologies: Stamping Presses, Tooling