The Optimal Stroke Is the Shortest Possible Stroke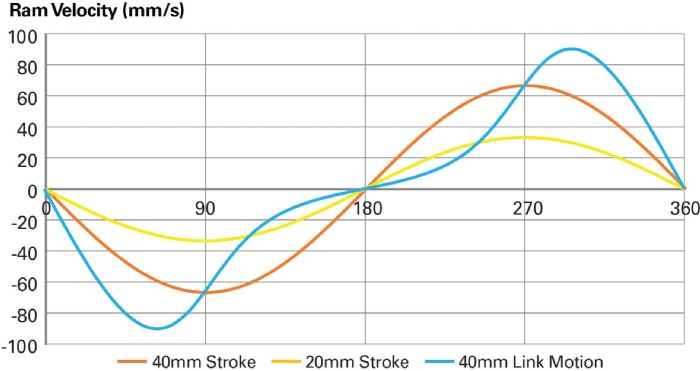 A careful analysis of the part to be shaped and the feed system will provide insight into the shortest possible stroke length for a given process. At any point during the crank rotation, one of the following occurs:
Cutting, forming, etc.

Material feeding

Piloting

Gap opening/closing to provide clearance for feeding.
Other operations, such as inspection or welding, can be incorporated into the cycle. This only should be considered when the value-add is greater than the reduction of efficiency at the press. In the tradeoff consideration, consider all of the factors discussed above.
A shorter stroke yields:
Fewer punch breakages in the tool

Longer intervals between tool sharpening

Better forming results

Longer press life

Less vibration

Less noise

Fewer nuisance faults.
Biases and assumptions in tool design or equipment selection can be difficult to detect and change. More obvious reasons for less-than-optimal stamping processes:
Equipment is not used for its intended purpose

Making a job work on available equipment

Purchasing equipment that "would do the job"

Purchasing new equipment at di

scounted price

Repurposing existing equipment

Operating conditions/tradeoff values have changed dramatically

Production volumes/lot sizes have changed significantly

Product specifications/part tolerances have been tightened

Production requirements for quality, certifications, packaging and delivery have changed

Equipment is outdated

Newer technology not utilized

Lack of automation

Lack of spare parts

Decreased serviceability

• Equipment has lost its precision from when it was new

Damages due to operating error

Material fatigue, improper repairs

Normal wear

Past modifications.
How to Improve the Stamping Process
Efforts to optimize start with an open mindset and a willingness to allow discoveries to effect change. It requires an environment where we replace assumptions with reason, and re-evaluate prior decisions based on changes in the operating conditions. Hiring an outside expert that provides an unbiased analysis and technological insights can be helpful. Sometimes simple remedies can make a significant difference. MF
Article provided by Sangiacomo Presses Americas, LLC.
See also: Sangiacomo Presses Americas, LLC
Technologies: Stamping Presses