Debus (Beckwood): Aerospace, DoD and general manufacturing make up the majority of our order volume, with some automotive applications mixed in. The purchases are split almost 50/50 between new products or projects and companies looking to increase capacity. Over the past few years, purchases for capacity increases were nowhere near current levels. We're seeing an almost even split between traditional metalworking/forming applications and those involving some type of composite forming/processing.
Q: How do today's hydraulic presses differ from their predecessors in terms of technology and capabilities?
"Modern hydraulic presses are engineered to integrate with new shop-floor technology," says Barney Raye, president, Multipress, "including communication with central production-control systems." Shown is a two-press cell programmed to provide precise ram-force control, enabling manufacture of heavy-duty ball-joint assemblies with virtually zero rejected parts.
Debus: Most manufacturers, Beckwood included, have spent the past few years finding s to increase productivity and quality without substantial increases in overhead. As the need for reliability has increased so has the demand for internal system monitoring and Internet-based monitoring. These technologies allow the press manufacturer to instantly gain access to the press systems from any Internet point, to help with troubleshooting or gain advance warnings for routine maintenance and even wear and tear.
The issue of flexibility continues to become more important as part volumes continue to diminish, leading to more frequent changeovers. Quick-die-change systems and programmable control systems with recipe handling are two popular methods for reducing changeover time. Other options for optimizing flexibility include purchasing presses with larger bed sizes and stroke capacity, and adding the ability to operate under pressure or position setpoint control.
Raye: For half a century, ram speed, position and force were controlled by limit and proximity switches, relays, linear potentiometers and other analog/mechanical devices. Today, press controls are almost entirely electronic. They boast supervisory PLCs receiving input from linear and pressure transducers, load cells and programmable motion controllers. It now is common for process parameters to be entered into machine memory as individual part recipes, accessible through a touchscreen operator interface.
Modern hydraulic presses are engineered to integrate with new shop-floor technology, including communication with central production-control systems. Faster speeds are being required for high-volume production of smaller parts. We recently designed an indexer press with a cycle time of 0.5 sec.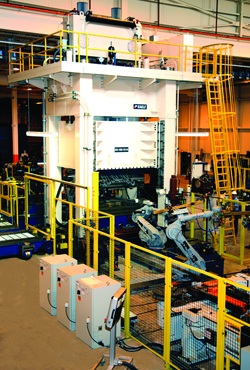 "Like mechanical prsses, bed sizes are increased on hydraulic presses to handle more complex and larger tooling and parts," says Eagle Press account executive Tom McCarthy. "Press manufacturers also utilize developments in 3D engineering, simulation and structural analysis to engineer more reliable presses that deliver the rated tonnage with minimal stipulated deflection."

McCarthy:
Press manufacturers are leveraging developments in 3D engineering, simulation and structural analysis to engineer more reliable presses that deliver the rated tonnage with minimal stipulated deflection. Press tonnage capacity is increasing to handle higher-strength steels, and customers request faster speeds—not just for increased production. For example, in hot-stamping applications, faster approach (nonworking) speeds are critical to begin forming the components immediately after they leave the oven.
Improved electronic controls and hydraulic components have enhanced control and accuracy of slide velocity and tonnage during the working portion of the stroke. This improves part quality and avoids material thinning and other quality issues. Even tryout and spotting presses are more complex—it's common to see rolling bolsters and booking platens to allow tool and die makers optimized access for repairs and modifications.
Murphy: Today's presses are faster, have less leakage points and incorporate the latest software packages for traceability and part quality.
Walkin: The market demands higher output, energy savings and increased accessibility, which leads press manufacturers to provide improved hydraulics, software, positioning and pressure control.
Gardner (Phoenix): Ram control represents a considerable improvement, providing the ability to match ram control to a customer's applications. Examples include:
• Returning the ram on pressure, distance, pressure with dwell.
• Controlling ram speed, switching from fast advance to a slower pressing speed. This can be done manually using adjustable limit switches or electrically using a linear transducer.
• Electronically monitoring force and distance.
Q: Describe recent advances in hydraulic-press components such as drives, pumps and controls.
Murphy: Industrial computers rather than PLCs are being used more often due to their processing speeds and memory storage. Hydraulic circuits are being designed to offer lower-power solutions while still providing high speeds and cycle rates. Integrating servo motors, drives and other control devices is more common due to customer requests to provide a more versatile machine.
Debus: It would be misleading to state that a plethora of new technology has been hitting the hydraulic-component and drive marketplace. Performance improvements and affordability should be headlines associated with higher-tech components.
"The issue of flexibility continues to become more important," says Beckwood Press president Jeff Debus, "as part volumes continue to come down, leading to more frequent changeovers. Quick-die-change systems and programmable control systems with recipe handling are two popular methods for reducing changeover time.
A good example is the performance of modern servo-proportional valves. These components offer performance characteristics similar to true servo valves but without the associated cost and tight operational requirements, such as fluid conditions. Press manufacturers can use these components within standard product offerings to provide customers with more bang for their buck. Five to 10 years ago, if customers wanted programmable press speed, this functionality typically carried a decent cost adder. Today, it is more a matter of setup and component selection rather than additions to the cost and complexity of the total system.
Pump control also has seen performance and cost improvements. In years past, flow- and pressure-control features were typically done ancillary to the pump. Now, pumps are available with internal or manifold-mounted capabilities with internal controls. While the unit price of the pump may have increased, the savings from minimized ancillary components and third-party control devices has made this technology more affordable.
Kirk: Advancements in electrical control systems and closely integrated hydraulic servo-proportional systems make newer hydraulic presses highly efficient, accurate and repetitive. Meanwhile, the costs for these advancements have been minimal compared to the benefits realized.
Also, newer valve and pump designs offer substantially higher performance and reliability than previous designs. The economics of using servo-proportional control solutions on pumps and valves has greatly improved. This allows manufacturers to offer advanced press-control ability at a competitive price. PLCs now have greater data-handling capabilities and operate at significantly higher processing speeds. Other supporting computer-based systems can be readily integrated into the hydraulic-press control system to handle high-speed data acquisition and precise motion control. Closed-loop pressure control can be less than 1 percent of full pressure, and motion control on multiple axes can be achieved with repeatable position control to 0.001 in. or better.
Schurman (Pacific Press): We see more variable hydraulic pumps for energy savings and press control, and more die-sensing equipment. We're using "smarter" cushion systems with nitrogen built into the dies, and most press manufacturers, die makers and customers are developing s to deal with ultra-high-strength steels.

Raye: Motion controllers have for years been used for electric motors and drives, and now have been adapted to accommodate the many variables in a hydraulic closed-loop control system. Traceable data collection and signature analysis are employed by quality-assurance personnel to document conformance. Also, proportional and servo valves have become more reliable and affordable, offering features such as precalibrated onboard electronics.
Dining: We're seeing considerable interest in VFD and other energy-saving technology. Manufacturers recognize that there is money to be saved by reducing operating costs with new, more efficient press technology.
Gardner: Hydraulic valving has changed from the basic bang-bang, spool type valves to proportional control valves for electronic control of pressure. More companies are requiring an operator interface to set ram pressure and position for part setup with recipe storage to reduce changeover time.
Walkin: The basic characteristics of a hydraulic press—variable slide speed, adjustable pressure and dwell time, and easily adjustable press force—provide the flexibility and reliability needed for numerous applications. Some important component improvements include faster controllers; pumps with lower reaction times; accumulator systems to improve speed without increasing installed power; and components for building high/low pressure systems and more efficient motors.
McCarthy: The most recent advances relate to controlling platen speed. Electro-hydraulic valves have replaced solenoid valves, providing proportional control of oil flow and resulting in smoother press operation. For high-speed presses, like those developed for hot forming, high-flow quick-acting proportional valves are a must.
Q: Where are press manufacturers focusing their research and development efforts, and why?
Dining: We are focused on reducing energy consumption and providing finer control, in terms of repeatability, particularly low-tonnage control. We think we can provide these capabilities less expensively compared to servo presses.
Raye: Not long ago, press makers relied on supplying standard models with a few options, requiring the buyer to adapt production processes to the press's capabilities. Today it's the other around, and hydraulic engineers must know the details of the application first, and then design the press to meet specific customer functional and performance specs.

Better part quality is the predominant objective, achieved with presses boasting exceptional accuracy and precise control. For example, one customer that manufactures heavy-duty inline ball-joint assemblies, looking to ensure quality of these safety-critical components, specified ram-position control to a demanding ± 0.0015 in. We supplied a sophisticated servo press that met this tolerance, but the customer still was experiencing an unacceptable number of out-of-spec assemblies. Our engineers evaluated the problem and concluded that, because of small variations in the stack height in the components, ram position was not the parameter that required tighter control. We reprogrammed the system onsite to provide highly repeatable ram-force control to within ±0.5 percent of full scale, and part rejections were virtually eliminated.
Walkin: Areas of focus include equipment modularization and energy efficiency. With modularization comes fewer spare parts, shorter lead times and greater flexibility to satisfy customer requirements.
Gardner: Several industries are requiring robust electronic control packages to control ram position and force. They also want to capture this data and record it for part quality. Companies with press fit/assembly applications are requiring this.
Schurman: Most R & D efforts are directed toward reduction in labor for the end user, and increased productivity. Basically, we're trying to reduce the amount of labor in the operation to reduce costs per part.
McCarthy: Hot-stamping and warm-forming processes are driving press designs that better-protect press components (hydraulics, lubes for guiding, etc.) from the effects of heat in the die space. Cooling (quenching) connections for the tool can be integrated into the press, and added programming helps to perfect the process recipe—hot stamping, dwell, quenching.
For all hydraulic-press applications, better deflection rates (bed and platen), improved platen gib-guidance systems and engineered press designs for specific applications are critical to enabling stampers to manufacture more complex parts with tighter dimensional tolerances.
Debus: All of our systems are 'tailored solutions' to meet customer demands, and because our customers span so many different industries, we find that technology that benefits one industry segment often benefits another. For example, working with hot-press customers operating at 1800 deg. F gives us the experience to utilize some of this technology in heated-platen projects operating at 400 deg F. Each application may reside in a separate industry but we can transfer the technology from one to the other. MF
Industry-Related Terms:
Alloys
,
Bed
,
Coining
,
Die
,
Draw
,
Forming
,
Functionality
,
Lines
,
Model
,
Point
,
Ram
,
Scale
,
Stripping
,
Stroke
,
Tolerance
,
Transfer
View Glossary of Metalforming Terms
See also: Greenerd Press & Machine Co., AP&T North America Inc., Pacific Press Technologies, Eagle Press & Equipment Co. Ltd., Neff Press, Inc.
Technologies: Stamping Presses