Smart Part Nesting
August 1, 2016
Many believe that efficient part nesting requires a human, but this no longer is true. In fact, humans cannot make the rapid multi-factored decisions needed to optimally nest material in a modern fabrication facility. In such an environment, variables to be considered include JIT, part association across multiple dissimilar materials (kitting), hot parts in the next machine cycle, response to schedule changes with each machine cycle, machine breakdowns, continuous part flow, engineering design changes, shop-floor flow optimization, setup optimization, common cutting and common punching.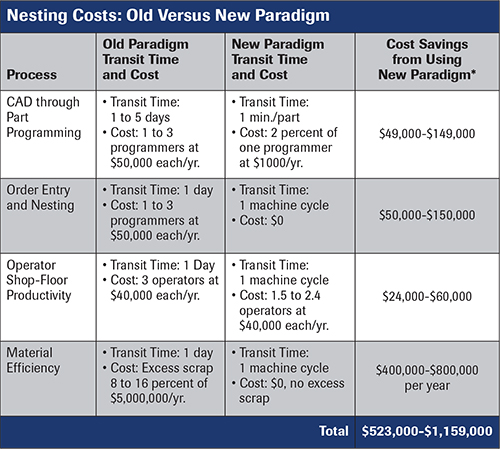 *Many factors influence cost savings, so actual savings will vary.

Simply put, with so many variables, it is impossible for a human to respond in time using interactive tools. Fortunately, nesting has advanced to automatically and optimally tackle these variables, reducing operator involvement in day-to-day nesting and part programming tasks. This leaves time for operators to perform other tasks and upgrades those tasks to enable continuous improvement.

The latest automatic-nesting technology, referred to as the new paradigm, can result in material efficiency improvement from 8 to 16 percent and may bring productivity gains of 150 to 250 percent. Such nesting is integrated, with connections to company CAD and ERP systems cutting human effort and transit time.

Knowledge Base Key to Automated Nesting

The latest nesting technology uses a knowledge base that can consider variables that impact the final results, replicating the value system used by humans. The main advantage of such a system over a human is its ability to consistently and rapidly consider all values that impact the final results.

For example, the knowledge base is configured with a fabricator's JIT policy, its material efficiency goals and all kitting requirements. The system uses this information along with additional mission-critical data to find the best alternative. In a short period of time it can select the best alternative that optimizes all of the criteria in the knowledge base.

Speed is what transforms such a system from nesting technology of the past, the old paradigm, and from human-managed nesting. If we assume that a brilliant human could achieve the same solution, it would take our human hours, days or even months to sort through all of the possible solutions to find the best. This is why, traditionally, the human creates repeated nests. By repeating, the length of time to build the nest is spread out over the multiple times that nest runs, thus realizing acceptable programming time.