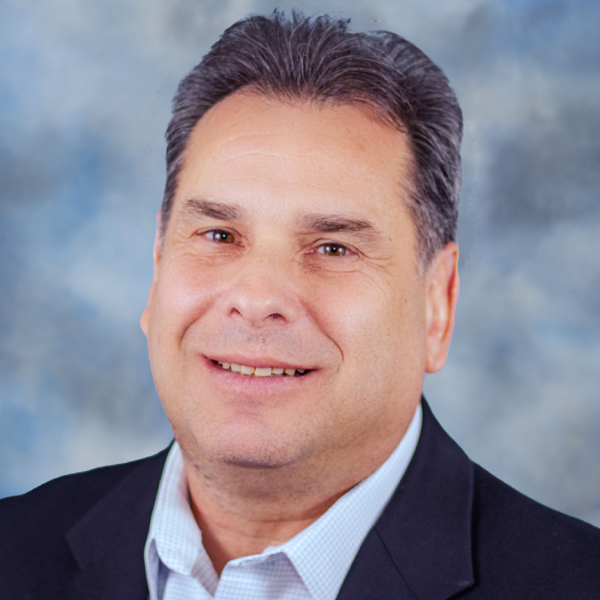 Brad Kuvin
The Onus is on Die Designers
October 1, 2016
Ten years after switching from 2D die-design software to 3D, the management team at Oldenburg Metal Tech. knows well the benefits of designing dies in 3D, and readily recites their documented results. They include the ability to design larger and more complex tools in less time; run dynamic interference detection between die assemblies; eliminate die-assembly mistakes made on the shop floor; and efficiently organize files. The firm's software arsenal (six seats of Logopress3 die-design software along with seven seats of SolidWorks, and new FTI forming-simulation software added in 2014) has served as the foundation for its rapid growth curve—evidenced by a seven-fold increase in revenue since 2005.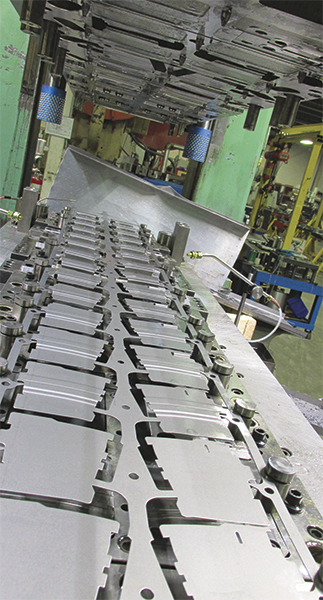 Dies are getting larger and part complexity continues to be a challenge. Tolerances are getting tighter, requiring more restrikes, and there's more use of in-die automation and assembly, and adjustability within the tools. All of this adds up to increased reliance on die-design/development software at Oldenburg Metal Tech.

But the success story at Oldenburg, Saukville, WI, is nowhere near the end, as the company of nearly 50 employees finds itself "leaning on the die-design and simulation software more than ever before," says engineering manager Mike Schmit. "Dies are getting larger, in the range of 40 by 144 in. compared to 30 by 60 in. a few years ago," he stresses. "And, part complexity continues to be a challenge. Tolerances are getting tighter, requiring more restrikes. And we're also seeing an uptick in the use of in-die automation and assembly, and adjustability within in the tools. Our design/development software (all acquired through Accurate Die Design Software, Inc., Brookfield, WI) allows our designers to efficiently accommodate all of this added complexity, and the additional tooling components. Then, our toolmakers find that the designs we send down to the shop are bulletproof. They can get the dies built, often in just a couple of weeks. Then, often in one development cycle in the tryout press, we can provide completed, proved-out dies ready for our customers."

Trending: More Responsibility on the Die Shop

Schmit's tale underscores an overriding trend in the metalforming industry. That is, as stampers look to eliminate downstream operations from their processes, such as additional press action to add details to parts, or assembly work in tapping or welding machines, their reliance on die shops to design and build highly performing and complex tools continues to grow. Die shops—designers and builders—then become the backbone of the industry. And, the die-design and simulation software they use becomes that much more treasured.

Commenting on features within the Logopress3-SolidWorks software package that prove their mettle with just about every tool Oldenburg develops, tooling engineer Matt Bunkelmann first cites collision detection. With SolidWorks, he says, the designer quickly checks bolts, nitrogen springs, pad retainers and other components for interferences.

"Logopress3 then allows us to actually simulate the designed tool in a virtual press," Bunkelmann explains, "lifting the strip and feeding the material forward, watching stripper movement and how the part forms, checking clearances on the blocks and ensuring that there is no interference.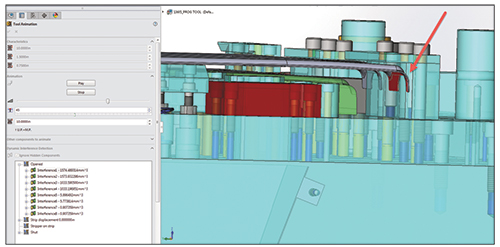 Oldenburg tooling engineer Matt Bunkelmann cites collision detection with SolidWorks and Logopress3 as key software features that help create bulletproof die designs. "We can run collision-detection and die animations in just a few minutes," he says.
"We can run collision-detection and die animations in just a few minutes," he continues, "and those software capabilities have continued to improve with each iteration. The graphics have improved noticeably, allowing us to see what's happening in a tool more clearly and definitively. And the updates run more quickly than ever, at least 50 percent faster than they used to."
The Rubber Meets the Road in the Shop
Of course, the rubber meets the road when tools designed using collision detection make their way to the shop floor for build and tryout.
"If the toolmaker can't assemble and dry-run the die after we've gone through the design and development process on the computer," says Schmit, "we've done something wrong. And that rarely happens."
Other features that help generate bulletproof die designs include strip layout (in 3D CAD for measuring, and in 2D for customer review) and flat-blank creation directly from solid models of stamped parts.
"In Logopress3, we just click on a radius and the software unbends the part to the flat blank, in a matter of seconds," Bunkelmann says. "This is a huge timesaver in strip development."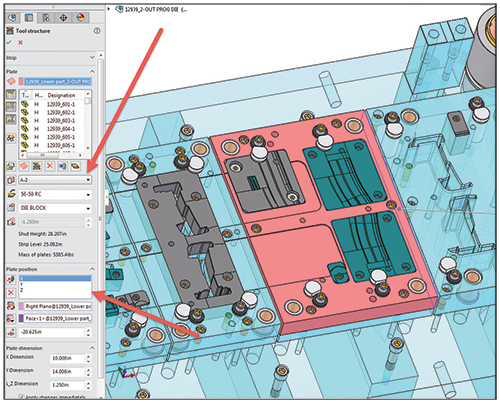 Logopress3 Tool Structure is used to automatically mate the strip assembly into the die assembly, and then insert plates. All plates can be controlled from one command manager. For example, cutting punches can be mounted—all holes cut through all plates with proper clearances—and punches that were in the strip can be derived and inserted into the assembly.
Another big timesaver is the exhaustive tool-component library housed inside of Logopress3, containing all of the industry-standard components designers need to quickly spec bolts, dowels, nitrogen cylinders and all of the other details called out in a complete die design. The convenience of the library takes on a new level of importance as dies become larger and more complex.
"We can add inserts, for example," Bunkelmann continues, "with just a few clicks, without having to specify every little detail of each setup. For example, we can click on a stripper and the software puts the hole and bushing in automatically, or click on a die block and it adds the hole and bushing, all in one command."
Die designers now also must be able to simulate their designs virtually, "or we simply won't get the work," says Schmit. Hence the decision, in 2014, to add FTI's one-step Fastform Advanced and FastIncremental simulation software to its collection. Fastform Advanced is a regenerative and associative formability tool that, FTI says, identifies 90 percent of forming-feasibility issues during die development, and reduces the number of required incremental runs. FastIncremental then provides a detailed virtual die tryout, using features such as automatic blank-size calculation and automatic binder closing and wrap.