From Part Drawing to Die-Price Estimate in 10 min.
October 1, 2014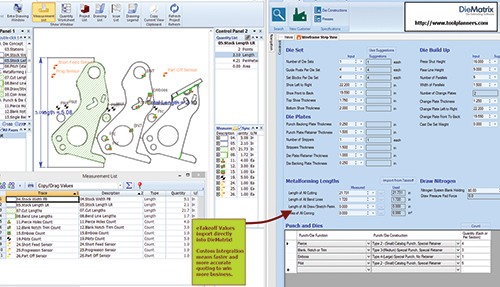 ToolPlanners Inc., Springfield, TN, has released DieMatrix version 6, database software for estimating the cost of metal-stamping dies. The desktop application is packed with new features, including a front-end GUI take-off that allows users quick and easy point-and-click measuring and counting from a pdf or any other image file.
A newly added quick-die-estimate feature allows users to go from part drawing to die price in 10 min. or less. Templates can be created to allow a quick estimate of similar dies in minutes, and reports can be generated with more than 800 die parameters.
The software comes loaded with global costing standards and labor rates for 26 countries, and is user-configurable to inhouse or customer specifications. Data can be stored locally or in a cloud server and shared with multiple users to allow collaboration.
ToolPlanners: 888/881-0659;
www.toolplanners.com
See also: Tool Planners Inc.
Technologies: Software