New Product-Engineering-Software Release Promises Collaboration, Topology Improvements
June 28, 2022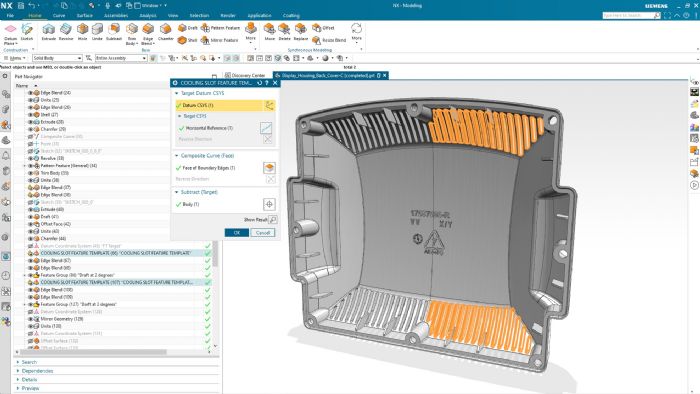 Siemens Digital Industries Software announced that the latest release of Siemens' NX software for product engineering that reportedly enables greater electronic co-design, collaboration, intelligence capture and reuse capability. New features in NX, part of the Siemens Xcelerator portfolio of software and services, enable engineering managers to find productivity improvements and greater efficiencies in their engineering departments, according to company officials.
With aesthetic quality now just as important as functionality, efficiency and performance, the latest release of NX offers new tools to help designers develop forms, including updates to curve creation and editing with parametric features, and NX Algorithmic Modeling updates that better support convergent modeling workflows, reportedly enabling more efficient routes to complex patterns and shapes.
NX Topology Optimizer now fully replaces and surpasses the software's previous solution capabilities, according to company officials, as part optimization within the context of an assembly now considers design and manufacturing constraints and makes possible simultaneous optimization of multiple design spaces with independent materials.
And, the recently introduced NX Design Space Explorer for multi-objective optimization offers multi-run support to fine-tune ranges and refine searches, and Simcenter HEEDS software run options now are fully integrated and cover baseline, random seed and normalization factors. This reportedly allows users to benefit from both cost and time savings through automation of complex optimization tasks, helping them achieve faster time to market during the design engineering phase of product development.
"This latest NX release brings enhancements to our users across the board, enabling them to work more intelligently between multidisciplinary teams, capture and reuse more knowledge, and achieve that optimum design more efficiently than ever before," says Bob Haubrock, Siemens senior vice president of product engineering software. "Alongside brand-new functionality, our significant investments to core technologies, such as sketch and convergent modeling, will further improve the toolsets that our community of users relies on every day."
See also: Siemens Industry, Inc.
Technologies: Software