Tilted CT from Nikon Improves X-ray Inspection of Flat Components
September 6, 2023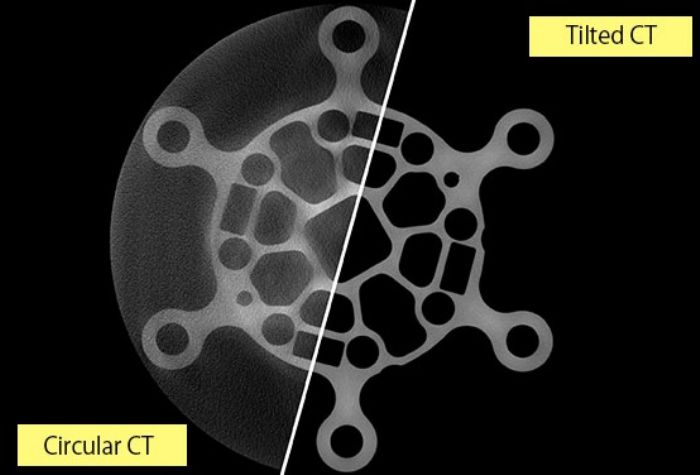 A pioneering X-ray computed laminography (CL) technique has been introduced by the Industrial Metrology Business Unit of Nikon Corporation for nondestructively inspecting challenging components using its computed tomography (CT) systems. Called Tilted CT, the new method reportedly improves voxel resolution when examining flat, high-aspect-ratio components. It also enhances quality control by producing clearer images of samples of any shape in which dense areas can mask those that are less dense.
When scanning flat components, which may have a small area of interest in the center that requires inspection, conventional 3D CT has limitations in terms of resolution because the axis of rotation of the item under investigation is at 90 deg. to the X-ray beam. It therefore is not feasible to position the component closer to the source to increase the magnification of the area of interest and improve resolution.
Using Tilted CT avoids the problem by allowing the axis of rotation to be adjusted by as much as 30 deg., allowing the sample to fully rotate beneath the X-ray source to enable higher magnification and enhanced image clarity.
One example of the application of Tilted CT: inspecting additively manufactured metal parts while they remain attached to their support plate. It is possible to scan components in their entirety, even the lower portion, by tilting the entire structure so that the dense build plate rotates at the same angle as the X-ray cone beam, effectively eliminating the obstruction.
See also: Nikon Metrology, Inc.
Technologies: Quality Control