Robots Help to Bend Heavy-Metal Box Panels
December 1, 2007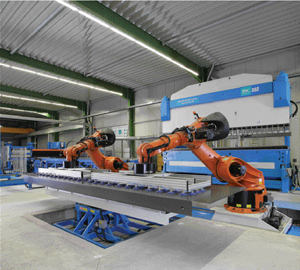 German fabricator BSC Bau-System-Center employs this two-robot automated press-brake cell to process blanks to 5 mm thick that weigh as much 480 kg and measure as large as 6.6 by 2 m. The line operates around the clock, six days a week.

After hitting upon the idea of industrializing the building trade with the aid of prefabricated steel box panels, Wolfgang Langer, managing director of German fabricator BSC Bau-System-Center, began to search for an integrated automation solution for production. The biggest challenge to automating: how to bend the heavy steel plates, which measure as long as 6 m and weigh as much as 480 kg. The firm found a solution in a team of two cooperating robots—Model KR 500 robots from Kuka Roboter GmbH—that move the heavy and awkward material in and out of a press brake.

BSC Bau-System-Center, based in Eisenhüttenstadt, Germany, reportedly is the world's only industrial manufacturer of customized building structures made from specially bent, large-area steel box panels. The company employs 20, to supply ready-made precision-fit elements in a variety of shapes and sizes, in lengths to 6 m.


"Steel box panel technology can be used to industrialize the building trade," explains Langer. "This system concept offers a great degree of planning flexibility and allows us to implement customer-specific solutions."


Accurate to Within 0.1 mm


Unfortunately, Langer had to wait 16 years from his idea's conception, in the early 1990s, to the development of a production system for the steel box panels. "The use of robots, with their payload capacity of 500 kg combined and with their ability to work together as a team, provided the breakthrough we needed," Langer emphasizes. "Another important factor was the ability to integrate the robot controllers into the overall system program."


The use of cooperating robots is based on Kuka's RoboTeam technology, promising precise synchronization and geometrical coordination of all path motions and operations within the robot team. Process accuracy results from precision synchronization and the real-time exchange of the required data.


Each robot in the RoboTeam has its own standard controller. The robots communicate with each other over a high-speed local Ethernet network to coordinate their actions. One robot acts as the team leader.


Parallel to RoboTeam, Kuka developed a new programming philosophy. Here, it is not the motion of the individual robots that is programmed, but that of the workpiece.