Press Automation Proves 'Future-Proof'
December 1, 2007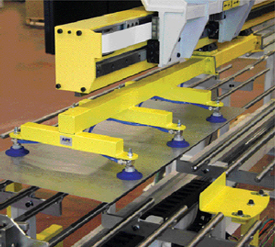 Each generation of blank feeders, such as this new model just being released from AP&T, represents about a 20 percent improvement in terms of speed of operation, according to AP&T representatives. This new feeder employs a pneumatic gripper, rather than a conveyor, to transfer blanks through a lubrication station and then center the blanks after lubrication.
Modular automation systems coupled with plug-and-play technology allow metalformers and their automation suppliers across the board to streamline the process of implementing automated press-tending apparatus. As a result, days, if not weeks, are carved from the process of system design, build, install and testing. Automation equipment for pressroom duty has evolved so that blank feeders, destackers and robots run more quickly, more precisely and with more robustness than earlier adaptations of the equipment.
"Each generation of blank feeders represents about a 20-percent improvement in terms of speed of operation," says Todd Helms, account manager for AP&T North America, Inc., Monroe, NC. "Metalformers investing in upgrading their current automation technology, as well as shops looking to minimize labor costs, appreciate and see the dividends in the growing use of plug-and-play components. The use of standarized modular components and the implementation of prewired interfaces make automation systems easier to install and test. This reduces our build, delivery and installation time. The entire process is simplified, providing faster startup times for the customer." Helms estimates that the typical (if there is such a thing) press-line automation project that used to take 12 weeks to design, build and install now occurs in just eight weeks. "For example," he says, "a stamper can integrate a destacker and blank feeder in a stand-alone application in four to five days, then start up and test the system in a day or two.

"Automation also is more flexible today," continues Helms. "Job shops that need to set up an automated line for new jobs can do so more quickly than ever before."

AP&T's press automation manager Per-Arne Mattson adds that "the new automation equipment is future-proof and very easy to upgrade."