Fast and Flexible Part-Transfer Solution for High-Speed Press Automation
March 1, 2014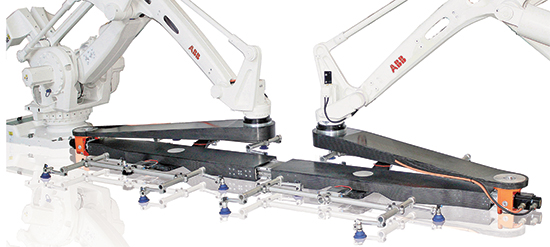 ABB Robotics, Auburn Hills, MI, has introduced the Twin Robot Xbar (TRX) fast and flexible parts-transfer system, designed to handle large panels in tandem-press lines at a maximum output rate of 16 parts/min. Retrofit the transfer system to existing press lines without requiring additional space.
Utilizing two robots optimally distributes power and load, while minimizing the inertia in demanding press automation applications. Using ABB's MultiMove technology, a single robot cabinet controls all ten TRX axes—two four-axis robots plus two crossbar axes. This simplifies programming without adding to the system footprint.
The system can accommodate a range of crossbar types and lengths to ensure the right fit for different line configurations. Crossbar changes for new production have been fully automated on the press bolster or at the interpress.
"The TRX can tilt in three different axes and allows dynamic reconfiguration of part distance when moving double parts (side-shifting)," says Enrique Pano, ABB Robotics' press automaton manager, "eliminating the need for additional actuators."
The TRX runs on ABB's proprietary StampWare software package designed to facilitate interaction between operator and press cell. Available on the robot FlexPendant for optimum simplicity, flexibility and cost effectiveness, StampWare includes a graphical programming wizard that helps operators program the robots without having to master the programming language.
ABB Robotics: 248/391-9000; www.abb.com/robotics
See also: ABB Robotics
Technologies: Pressroom Automation