Larger and Programmable Motion Profile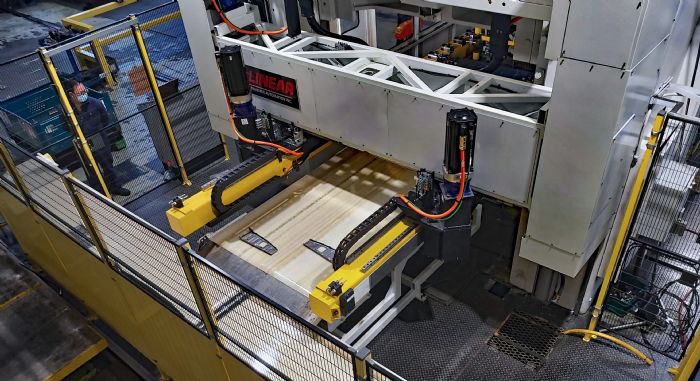 While the old mechanical transfer system on the 1500-ton press at the Barrie plant had a fixed motion profile of 1100-mm pitch, 300-mm clamp and 150-mm lift, the new servo-transfer setup offers a vastly larger—and programmable—motion profile: 0 to 1500-mm pitch, clamp motion to 750 mm and a maximum lift of 300 mm. The 5800-mm-long tooling bars carry 18 Norgren receivers, with a max payload of 175 kg.
"The expanded motion profile, and its flexibility, has been a game changer," Moore says.
In addition, while the old and obsolete transfer system limited production run rates to 12 strokes/min. for most jobs, the new system typically runs at the rated press speed of 20 strokes/min. The press processes blanks produced inhouse, and runs 1.5 shifts/day, "soon to be 2.2 shifts/day," Moore says. "And, we expect to be running at three shifts/day sometime in 2022."
Much of the work running on the newly upgraded transfer press comprises six new tools awarded from a Tier One customer, "a testament to the flexibility of the transfer system," Moore says. "Most notable is the increased pitch capacity, which allowed us to take on these new tools. There's no way they could have run on the old system with just 1100 mm of pitch.
"We've maximized the entire window of the press," Moore continues, "as well as the lift axis. And, we worked with Linear Transfer to customize all of the start-stop angles. All of this newly found process flexibility has allowed us to run a wider variety of part and tooling sizes."
Moore also notes how the flexibility of the servo-transfer system allows the press to run what he refers to as "unique" tools.
"For example," Moore offers, "to run one of the newer tools, we can pause the transfer system where we don't have quite enough clearance and where we need to get a tooling finger around a guide post. As the press ram moves past 180 deg., we can hold the pitch axis to delay it from returning, pause the transfer until the press begins to open, and then restart the pitch motion."
Other Transfer Retrofits
Regarding the other two transfer-system retrofit projects at MatcorMatsu, at its facilities in Brampton and in Ohio, Moore says that the completed Brampton retrofit occurred on a 1996-vintage blank-fed press. That setup employed an older servo-transfer system that was installed below passline and used a carousel-type infeed destacker.
"It ran at a very low stroke rate," he says, "and the below-passline setup caused a lot of draw oil and other contaminants to infiltrate the ballscrew and lift-pinion gears, which became a routine maintenance headache. We had to tear apart the entire mechanical system at least once per year. Overall equipment effectiveness was poor, the press was in dire need of help, and the new transfer system, installed early in 2020, came to the rescue."
That press also has been upgraded with a new high-speed pick-and-place unit, running a combination of transfer dies.
The Ohio transfer-system upgrade is due for installation early in 2021.
"You can't improve if you don't invest," says Drummond. "If you tour all of our facilities throughout North America, you'll find a lot of new equipment, including a new 2000-ton press and 3000-ton press installed recently in Mexico. As our customers look for us to take on more and more work—often larger and more complex dies, and projects involving higher-strength steels and aluminum work—we remain committed company-wide to adding equipment, growing capacity and expanding our capabilities." MF
Industry-Related Terms:
Bar Coding
,
Blank
,
Blanking
,
Draw
,
Gas Metal Arc Welding GMAW
,
Lines
,
Model
,
Ram
,
Run
,
Stroke
,
Transfer
View Glossary of Metalforming Terms
See also: Linear Transfer Automation Inc.
Technologies: Pressroom Automation