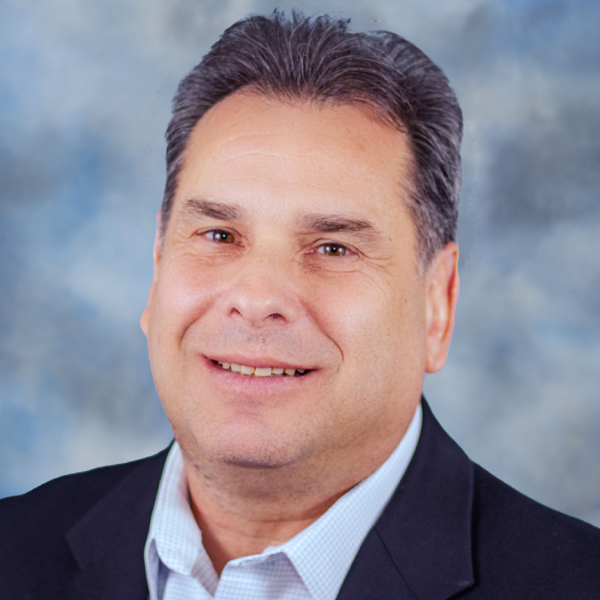 Brad Kuvin
Automation Resuscitates Legacy Press Line
November 27, 2020
When a used 1500-ton transfer press arrived, in 1989, at an automotive-stamping and assembly facility in Barrie, Ontario, Canada, the press' mechanical transfer system proved more than adequate for handling the work being handed down from the company's OEM and Tier One customers. Fast forward to today, and the plant now is one of seven production facilities owned and operated by Tier One supplier Matcor-Matsu—two in Canada and one each in Ohio, Michigan, Alabama and Saltillo, Mexico. By the time Matcor-Matsu took over the Barrie plant in 2014, the above-mentioned press (an Aida mechanical model with 5500 by 2300-mm bed) had been idle for some time, according to Kevin Moore, the company's technical support services manager.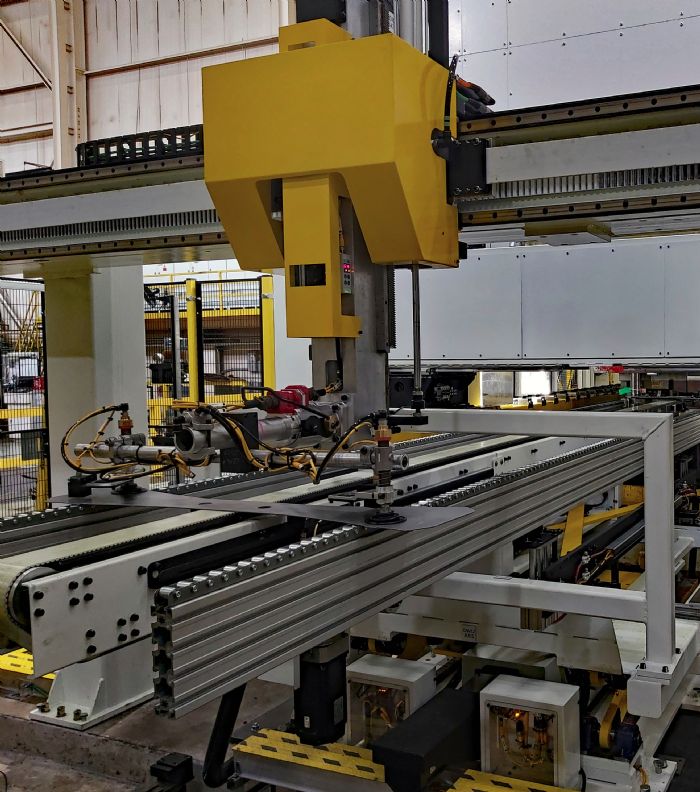 "After taking over the plant, Matcor-Matsu immediately began to target new business," Moore says, "and we viewed that idle press as an opportunity for an upgrade so that we could target additional work. We sought to give the press new life and equip it to handle the types of jobs we were looking to quote, including some takeover tools to support our customers. The limitations of the press' mechanical transfer system prevented us from taking on those projects."
That said, the press itself remained a solid and reliable piece of equipment, and early in 2018 company management went to work in search of an upgrade solution, to breathe new life into the press. The project came to fruition in May 2020. That spring, the press was rejuvenated when Linear Transfer Automation retrofitted it with a new three-axis servo-transfer system; a high-speed pick-and-place blank feeder with two stack carts and 40-kg max payload (tooling plus blank); complete press-line entry- and exit-side guarding; and a new end-of-line 6000-mm-long conveyor, all managed by a single Allen-Bradley control platform.
(Note: Linear Transfer has since installed a similar system on a 1200-ton press (4600 by 2300-mm bed) at the Matcor-Matsu facility in Brampton, Ontario. And, it plans to install a third transfer-system retrofit early in 2021 on a 1320-ton press at the Matcor-Matsu facility in Edgerton, OH.)
Quoting New Work, and Takeover Tools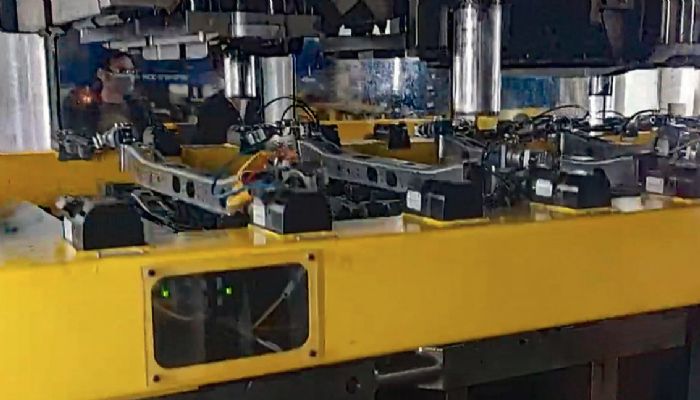 Matcor-Matsu, headquartered in Brampton since 1991, operates presses to 3000 tons—progressive, transfer and tandem lines turning out a variety of stamped and welded/assembled components for the automotive industry. Most of its work is for SUV, crossover and light-truck platforms, and it supplies "substantial content on several of the best-selling vehicles produced in North America," says director of purchasing Rob Drummond.
Platforms it feeds from the Barrie plant include the Honda CRV, light- and heavy-duty Chevrolet Silverado, and Ford Bronco. Typical stamped parts include structural reinforcement assemblies, cross members and other complex assemblies. The facility, in addition to the recently upgraded 1500-ton press, also houses 300-, 500- and 800-ton progressive-die presses; a 400-ton blanking line; and a pair of 2500-ton transfer presses.
Speaking to the recent and planned press-automation upgrades, Moore notes that, "even as we continue to invest in new capital equipment at our facilities, these upgrades to existing presses have allowed us to be very aggressive in quoting new work, and to bring in takeover tools when our customers ask us to. The flexibility and adaptability of the servo-based transfer equipment also enable quick and efficient changeovers, while allowing us to run most tools at, or very close, to the maximum run rate of our presses."