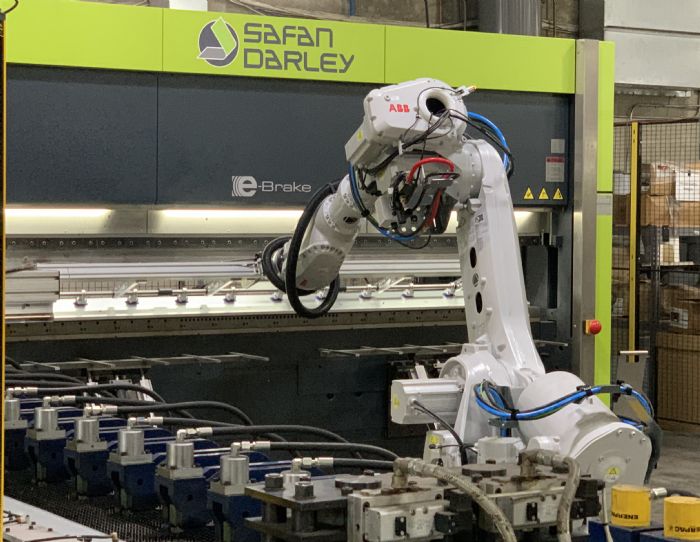 Aware of these advancements and eager to continuously improve its operation, Metal-Era contracted with IAS Inc., New Berlin, WI, an ABB Robotics systems integrator, to overhaul several of these existing press brake cells and build an entirely new one.
"After thoroughly reviewing the press brake operations at Metal-Era, we proposed some renovations to the existing cells, much of which we also incorporated in the design of the new cell," says Andrew Fischler, IAS project engineer. "A big part of it: replacing older robot models with the new-generation ABB IRB 6700. We also designed an innovative vacuum-suction end-of-arm-tool (EOAT)."
The IRB 6700, part of the seventh generation of ABB large robots, offers enhanced speed, payload and accuracy, according to ABB officials. Other reported advancements: power consumption decreased by 15 percent, total cost of ownership reduced by as much as 20 percent, and optimized maintenance, which doubles the time between service intervals as compared to similarly categorized robot models.
Each IRB 6700 model installed in the Metal-Era cells features a 155-kg payload—more than enough strength to handle the intricate EOAT and steadily place a 12-ft. fascia part into the press brake. And, a 2.85-m reach allows access to all points of the cell where a robot picks and places each part, before, during and after the press brake's bending operation.
The IAS-designed EOAT features 12 vacuum suction cups mounted on two shafts coupled together to form a channel for the vacuum conduit. The entire EOAT shaft can rotate to pick and place the metal fascia sheets without the robot colliding with the press brake. The EOAT maintains a secure grip on the part while in the brake, precisely repositioning the part through the various intricate bends of each cycle.
Programming Optimizes Cell Throughput
The bending cells include all of the equipment and processes needed to transform stacks of raw sheet metal stock into finished lengths of roof fascia. Processing starts with 4 by 12-ft. sheets sheared into widths to 16 in., and continues through an operation to punch holes for installation mounting, to an operation to notch corners for product variations that may need to be folded, and then to a machine that stamps one of the many possible product logos. IAS specified the equipment and designed the gantry systems that move the blanks between each punch, notch and logo (PNL) station.
Once through the PNL process, the robot picks up the part and loads it into the press brake. After positioning and repositioning the part in the press brake for a sequential series of as many as five bends, the robot places the part on an outfeed conveyor for packaging and shipping.
"Approximately 55 percent of Metal-Era business relates to fascia product, with 95 percent of that manufactured on our robotic systems," says Jim Denomme, Metal-Era chief operating officer. "We manufacture some products that are never touched by humans until the part is finished."
Each cell can process as many as 16 different products, with the transition from one product to another often as simple as changing the program on the robot controller interface and changing out the raw material. IAS performed all of the programming and commissioning of the cells using RobotStudio, ABB's offline programming software that enables users to create, simulate and test a complete robot system in a virtual environment.
"With RobotStudio, we can simulate the location and movement of all key components of the cell, allowing us to experiment with different layouts and optimize the robot paths and part manipulations," says Fischler. "It was incredibly helpful in programming the precise placements in the press brake for each part, and in achieving the best cycle times. Programming in the virtual environment works through any trial and error prior to installation, greatly expediting the commissioning process."
The new and recently upgraded bending cells continue to improve Metal-Era's fascia-line performance, including a throughput improvement of approximately 15 percent. Another gain: very little waste, both in unsaleable product and in application of human resources.
"We are a high-mix low-volume operation, so the main driver for us is efficiency—achieving consistent quality and addressing safety and ergonomic issues with our factory staff," says Denomme. "The robots efficiently tackle a wide range of product variations, handling the parts carefully and placing them in the press brakes precisely every time. The quality of product is much more consistent as compared to product off of our manual press brake operations."
The five percent of Metal-Era's fascia products too large to run through the robotic cells or not programmed into the system require two shear operators, one notch and hole-punch operator and two press brake operators. Comparatively, running the five robot cells only require 2.5 employees per shift. The cells enable Metal-Era to reduce significantly the physical stress placed on its employees and enables allocation of manpower to more value-added jobs that better support business growth.
"Our business has grown, in part due to the efficiency gains of adding robotic cells," Denomme says. "I am happy to say we have never had to lay off an employee because we added robot automation."
The increased throughput has allowed Metal-Era to enhance its Quick-to-Ship program, a next-day and express shipment program for fascia products. Now, a greater variety of products, sizes and colors can ship within one to three days of order.
Investigating Other Robotics Applications
With the success of automating fascia production and the continued advancements in industrial robotic technology, Metal-Era continues investigating the use of robotics on additional products.
"One key to Metal-Era's future success is the ability to reduce our manufacturing costs through production of products with greater efficiency and increased quality," Denomme concludes. "The expanded use of robotics allows us to achieve these critical goals and results in enhanced customer satisfaction." MF
Article provided by ABB Robotics, Auburn Hills, MI; 800/435-7365; new.abb.com/us, contact.center@us.abb.com.
See also: ABB
Technologies: Bending, Pressroom Automation