Two-Press Robotic Cell Supports Lights-Out Aluminum-Forming Operations
April 11, 2023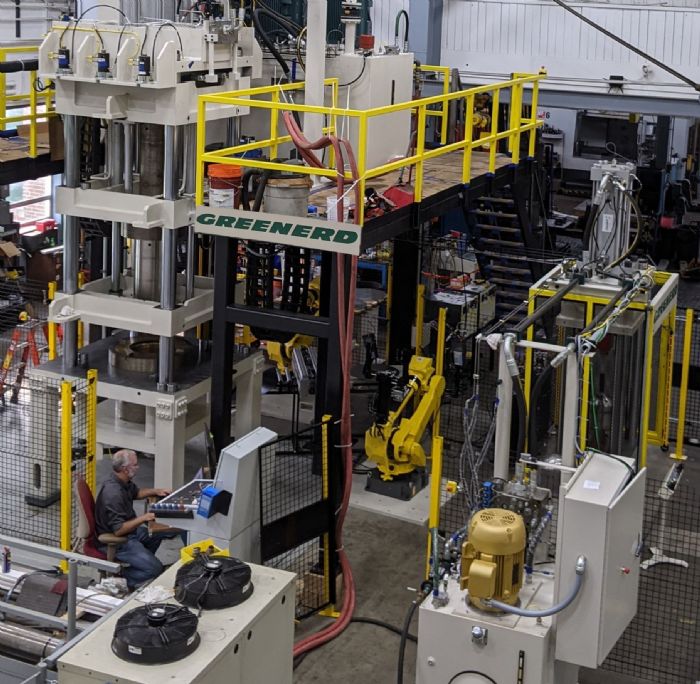 Greenerd Press & Machine Co., Nashua, NH, has developed an automated two-press, two-robot production cell enabling unattended production of large aluminum pressure vessels. The cell employs sensors to locate a pallet of blanks. Then, a Fanuc robot picks an individual blank from the stack, detects and rejects any double blanks, and transfers the blank to an automated lube station. The robot then picks a previously lubricated blank and loads it into a hydraulic deep-draw press. During production, a second robot catches and transfers formed parts to a second hydraulic press for a punching operation. A centralized control station sets the operating parameters of both presses and controls the action sequences of the robots.
"Increasingly, our customers seek turnkey robotic and other product-handling solutions," says Greenerd president and CEO Jerry Letendre. "Today's challenging applications require manufacturers to implement automated press solutions that are flexible, productive and reliable."
See also: Greenerd Press & Machine Co., FANUC America, Inc.
Technologies: Pressroom Automation, Stamping Presses