Tramp-oil separators automatically remove free-floating and mechanically dispersed tramp oils, bacteria, slime, inverted emulsions and more from individual machine sumps, central systems and wash tanks. This equipment eliminates the need for employees to manually vacuum oil from the rinse tanks, and can reduce tramp oil to less than 1 percent in a single pass. Additional benefits include reducing new-fluid purchase costs by as much as 75 percent and reducing hazardous waste volumes to 90 percent.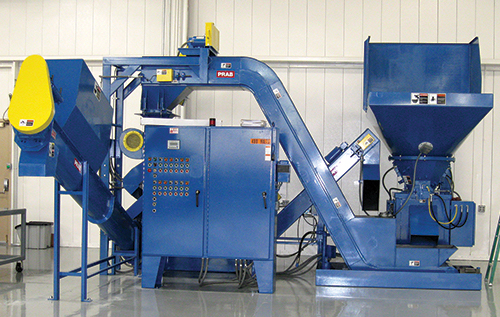 For metal formers employing machining operations, a crusher/wringer system such as this reduces the volume of large bundles and stringy turnings. Such equipment delivers dry, shovel-grade chips and reclaims as much as 99 percent of coolants and cutting oils.
Mechanical or automatic hydraulic dumpers help simplify cart unloading, resulting in an efficient one-person operation that involves using a handheld control for equipment operation.
Load-out systems complete the scrap handling process by moving metal scrap to distribution bins for transport to the recycler. These systems provide efficient, automated, and even filling, allowing for maximum use of container space and maximum value from the recycler.
Chip-processing systems automate the process of reducing turnings and bushy wads to flowable, shovel-grade chips while separating scrap from fluid. Vertical axis crushers, for example, maximize labor allocation by providing continuous, positive feed operation and automatically removing occasional solids to prevent equipment damage.
All of these systems improve productivity by freeing workers to focus on production and throughput. They also reduce the potential for dangerous contact with sharp metal material and minimize environmental risks. And, they position an operation to receive maximum value from scrap-metal recycling, and provide the opportunity to reuse spent coolant.
Modern equipment provided for conveying, scrap handling, fluid recycling and water/wastewater treatment, also delivers maximum uptime with low maintenance. This eliminates the need to overstaff maintenance technicians, and helps maintain process productivity.
Mind Waste Streams When Assessing Productivity
Productivity improvements in today's manufacturing plants typically arise through evaluation of production equipment, operating procedures and production-labor allocations. Continuous improvement in this area also should include waste streams, which offer several opportunities to address skilled-worker staffing. To keep a production line flowing safely and efficiently, it is important to gain the efficiencies, dependability and repeatability of automated equipment. The goal: not to put people out of work but to retain qualified employees and minimize the impact of a shrinking workforce.
Working with an experienced equipment and systems provider to automate systems throughout a process can help metal working plants thrive in an environment where attracting and retaining qualified employees continues to be a challenge. MF
See also: PRAB, Inc.
Technologies: Pressroom Automation