Software Eases Complex Tracking to Derive OEE
June 5, 2020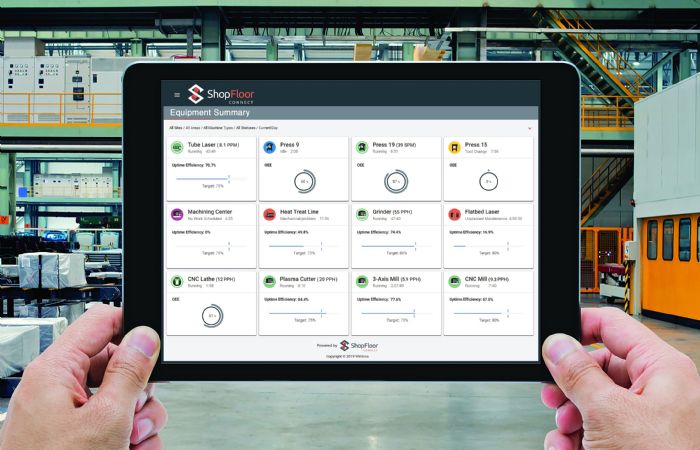 "The efficiencies created by The Industrial Internet of Things (IIoT) and Industry 4.0 initiatives are helpful when measuring OEE, which over time, has become increasingly complex to track automatically," offers Jim Finnerty, product manager for Wintriss Controls Group LLC. "OEE has evolved beyond its original intent, and is now being used for continuous productivity monitoring, which is challenging when machines run jobs with differing production rates and lot sizes."
To help meet these challenges, ShopFloorConnect OEE and shop-floor data-collection software from Wintriss Controls Group uses advanced algorithms to continuously and accurately monitor OEE. ShopFloorConnect collects downtime and production efficiency data from every machine in a manufacturing operation, displays it in real-time, and produces indispensable manufacturing reports, including detailed OEE reports in a variety of formats. The software can increase manufacturing capacity and profitability significantly by identifying and quantifying excessive production losses and bottlenecks.
To augment the growing requirements of Industry 4.0 and IIoT initiatives, ShopFloorConnect Version 6.0 offers new and expanded data-collection and analysis capabilities. Version 6.0, Finnerty reports, has a new design format for rapid, simple access to all data, offering several new features for more robust, user-friendly reporting and dashboard customization, flexible scheduling capabilities and machine interface enhancements--all critical for OEE.
Further refinements allow users to improve the OEE of their machines by tracking the reasons for scrap. Version 6.0 also allows users to manually enter good- and bad-part count data, vital for OEE calculation when machines with batch processes make it impossible or impractical to automatically count the parts as they are produced. And to better serve customers in North America and worldwide, this latest program version can handle multiple languages and time zones.
Enhanced user interfaces and versatile scheduling capabilities also are available in ShopFloorConnect Version 6.0. Users such as production supervisors, manufacturing engineers and job schedulers with different information requirements now can customize the way data are displayed on their dashboards. In addition, flexible scheduling enables the next five jobs to be sent to the software's machine interface (SMI-2), allowing users to view and switch to other high-priority jobs in the event that unforeseen circumstances prevent starting the highest-priority job.
Also, new features have been added to the machine interface, including the ability to place downtime reasons in user-defined categories for faster selection, immediate Mean Time Between Failures and OEE displays, and improved status displays.
See also: Wintriss Controls Group LLC
Technologies: Pressroom Automation