RFID System Tracks Parts on Pallets, Totes or in Bins
January 1, 2009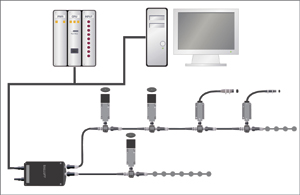 Easy Loop read-only RFID systems from Balluff, Florence, KY, are designed to provide absolute data reliability and environmental ruggedness not found in barcode systems. With multiple versions of read-head hardware options, and read distances to 50 mm, ID values on Easy ID tags can be used to track the location of the part or product bins and totes in and out of storage-and-retrieval systems or in production-line applications, providing high process visibility. Connecting and interfacing Easy Loop products is simple, according to company officials, with a single cable for power and communication and standard interfaces such as RS-232, RS-422 or even Ethernet TCP-IP.
By using the Easy Loop system in the manufacturing process, pallets carrying parts from one manufacturing or assembly station to the next can be tracked without the use of unreliable barcode methods, claim company officials. This allows error-proofing to be implemented in any production environment.
Reported benefits to using Easy Loop RFID include 100 percent data reliability; significantly increased visibility and process control; process error proofing; and reduction of mistakes and rework.
Balluff: 800/543-8390; www.balluff.com
See also: Balluff, Inc.
Technologies: Pressroom Automation