New Online Source for Press-Automation, Production-Monitoring Products
September 23, 2020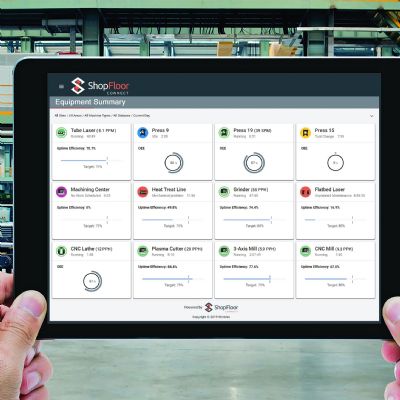 Wintriss Controls Group has announced its Online New Product Source where fabricators and metal formers can find the latest SmartPac Pro press automation controller and ShopFloorConnect OEE and production monitoring software product updates, and other news from Wintriss. Additional highlights include a new virtual-webinar format for the Wintriss Die Protection Clinic, and a link to schedule online ShopFloorConnect 6.0 demonstrations.
The SmartPac Pro with remote access and programming capability is ideal for current working conditions that may restrict availability of onsite personnel. Also, the SmartPac Pro Servo offers complete automation control for servo presses.
Key features and benefits of ShopFloorConnect 6.0 OEE and shop-floor data-collection software (pictured) are explained, with a link provided to schedule an online demonstration of ShopFloorConnect.
And, the new-product source features a new online webinar version of the Die Protection Clinic, offered in three 2-hr. sessions.
Visit the Online New Product Source at https://wintriss.com/wcg/see-you-next-year.html.
See also: Wintriss Controls Group LLC
Technologies: Pressroom Automation