Module Option Gives PLC Integrated Process and Safety Control
April 16, 2020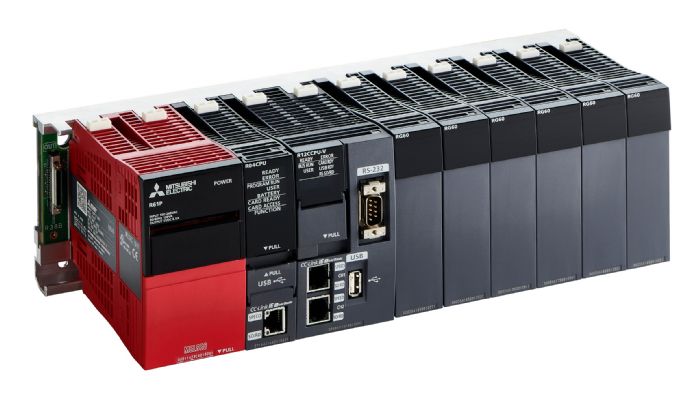 The Melsec iQ-R PLC from Mitsubishi Electric now offers a safety-module option that provides the performance and integrity of a separate safety PLC, according to company officials, but without the added cabinet space. Reportedly combining responsiveness and nonstop operations with high process availability and dependability, the iQ-R can support demanding mission-critical applications as well as provide conventional process control.
In addition to managing advanced control tasks, the PLC provides combined safety control to drive functional and process safety, offering the ability to create applications that are compliant with ISO 13849-1 PL e and IEC 61508 SIL 3 standards.
Combining process and safety control into one unit helps machine builders, integrators, and process and manufacturing businesses benefit from a comprehensive and scalable control management strategy, according to Mitsubishi Electric officials, while optimizing their equipment footprint, reducing wiring requirements and lowering capital investment. These benefits are enhanced via the option of using a common CC-Link IE Field Gigabit Ethernet network for both process- and safety-control communications.
Operational control functionality is programmed using a single, intuitive platform, GX Works3. This makes it possible to create and execute integrated process- and safety-control programs via a single CPU module, reportedly reducing the time and cost associated with setting up two separate controllers.
See also: Mitsubishi Electric US, Inc.
Technologies: Pressroom Automation