Better Die and Part-Production Tracking
Immediately apparent to Rhodes and others at Marshalltown: The new controls have improved die and part-production tracking.
"Many of our products feature a steel blade, which we blank using dies that deliver a variety of hole patterns," he says. "As some of our dies run multiple parts, the new controllers allow us to set up the tooling for each specific part."
Before, dies and part production only featured tracking based on the die number, not on the various parts that each die could produce.
"Now we can call up each specific part run on the controller, and better track the amount of different products that run through a die for each specific setup," says Rhodes. "The job call-up capability helps expedite our setup process because the presses interact with servo feeders (Coe Press models). The SmartPac Pros send information for each job to the strip feeders, which frees operators from having to set up the feeders as well. Besides saving time, the controls reduce the chances for human error in job setup."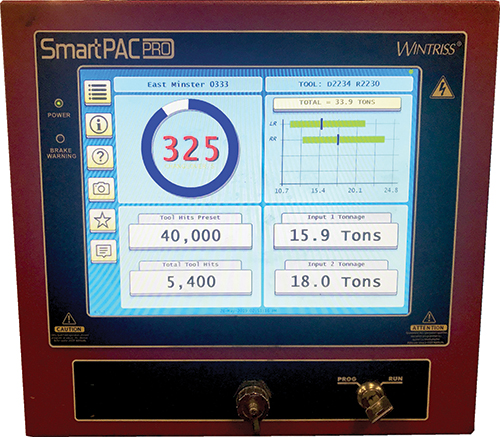 Data gained through the controls upgrade include hits, part counts and stoppage reports. All of that routes to a company-wide system to keep personnel apprised of job, tool and press status.
On the three SmartPac Pro-outfitted presses, part runs average about 10,000, with three to four job setups per shift on a mix of progressive and one-hit dies, according to Rhodes. Gathered tool and job data feed into a company-wide system.
"Whether it's the production supervisor, plant supervisor or toolroom supervisor, the system tells them the number of the die in the press, the batch size and more," Rhodes explains. "This lets management know how much longer the die will run within the press, so we know when that die will be pulled, what will run next and other information.
"Through the SmartPac Pros, we can access the current tooling program, number of hits, data from our die-protection inputs and our cam-action outputs," he continues. "We know the status of all of that at any given time."
Rhodes describes a bit of a learning curve as data collection and reporting represents a relatively new path at Marshalltown, but the curve was flattened with assistance from Wintriss technical support.
"Once we plugged into all of this, we had to figure out what to do with all of the new information," he says.
Longer Die Life, Longer Part Runs
With the new controls in place, Marshalltown boasts a number of success examples. One deals with the number of hits before a die travels to the toolroom for servicing.
"Before, we wrote that information on a piece of paper—sometimes incorrectly, or people would forget to write down a run, or we'd lose the paper and all of that information," recalls Rhodes. "Now, with this electronic data collection, we know the exact number of hits. For dies running multiple types of parts, we know the percentage of a run for part A, and the percentage for part B. We use that data to better plan a die's run and maintenance schedules. It helps extend die life and provides for better production planning."
Misfeeds represents another area where the new controllers have paid big dividends.
"We can track why the press has stopped, and that includes misfeeds," Rhodes says. "Previously, we had a hard time with misfeeds during and after setup, and we should have had this basic information available to the toolroom. Now we can see, for example, how many times within 500 hits did we have a misfeed."
In one specific case, a progressive die had run strictly on one of the 60-ton presses because the press' DiPro 1500 could incorporate misfeed sensing deemed critical for that die.
"But the tough material required to run through that die pushed the limits of the press, causing flexing and resulting in die misalignment," says Rhodes. "After installing the SmartPac Pro on the 110-ton press, we could transfer the die to that press due to the controller's ability to incorporate misfeed sensing data.
"As a result," he continues, "we increased production from 500 parts before required die servicing to 5000 parts. Again, we gained that productivity just by switching to the higher-tonnage press equipped with the new controller."
Information Equals Success
Addition of the new controllers fits perfectly into Marshalltown's quest to ramp up data collection and analysis through all of its operations.
"We use automation and data collection in order to provide a safer and more efficient workplace," Rhodes says. "It's not just in our press area. We're utilizing data collection in our automated and manual production workcells, and doing everything we can to collect as much information and use it to help in production, maintenance and engineering. With this information, we can pinpoint bottlenecks in our processes and become more efficient in what we do. It has helped us to remain a leader in the supply of construction tools." MF

See also: Wintriss Controls Group LLC
Technologies: Pressroom Automation, Sensing/Electronics/IOT, Stamping Presses