"Perhaps a stamper will need a specified number of die-protection inputs and different outputs to control certain processes," Falcone says. "Stampers may not need them right now but will in the future, and it is important to allow for expansion on automated lines."
Placing Line Components on the Same Page
Cleaning up press-line controls and integrating ancillary equipment comprise a sizable portion of work for Toledo Integrated Systems.
"The metalforming industry has moved more toward encompassing monitor and control functions into one system, which has been a tremendous growth segment for us," offers Falcone.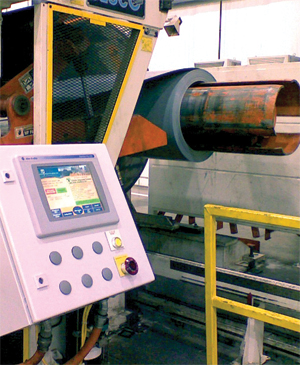 A controls cleanup can address press-line problems caused by the addition of equipment to the line over time without planning for consistent and adequate control of that equipment. A cleanup can ease troubleshooting (with a fault log and fault descriptions easily available via the control panel or remotely), leading to increased uptime, and ease line expansion the next time around.
One recent Toledo Integrated Systems project addressed line integration and control cleanup at an automotive Tier One stamper in Ohio, which over the years added a decoiling unit and feeder to a mechanical press.
"The line employed two controls that each required different software to program," says Eby. "They could communicate with each other but not very smoothly. The customer asked us to place the controls on the same platform. In addition, equipment drives had faulted intermittently, which inhibited production. All of this affected the ability to troubleshoot."
Manage By Facts Instead of By Opinions
A controls upgrade can assist trouble-shooting by pinpointing the cause of press stoppage, according to Dave Buehler, Toledo Integrated's controls manager. "This directs the operator or maintenance personnel to the problem, and a fault log, usually available in upgraded controls packages, can help in decision-making," he says.
"'Managing by facts instead of by opinion' is how one stamper put it," says Falcone, describing the benefits of a fault log. "The better that we can present the problem or the fault to a stamper, the quicker it can correct the fault."
Specifically on the Tier One project in Ohio, the existing uncoiler drive was faulting out multiple times per day.
"Because control-communication problems hampered troubleshooting, the stamper did not know why the faults occurred, but would just reset and the line might run for another hour and then fault again and shut down," says Shane Steinhardt, applications engineer.
In addition, the line's looping pit would periodically encounter a tight-loop condition, also affecting productivity. And, adding on to the older control system over the years with equipment from various vendors further strained line operation and troubleshooting.
The cleanup included replacement of three human-machine interfaces with two units to simplify line oversight and incorporation of open-architecture communication to ease connectivity between line components and the overall control system. In addition, the stamper chose to replace existing older-technology DC drives and motors with new AC units. The installation of a shared DC bus between the uncoiler and the straightener axis helped share regenerative energy produced by the uncoiler during normal operation. The net result: less downtime leading to improved productivity, which illustrates the power of improved controls for cobbled-together press lines.
Control Your Future
Of course, stampers must decide if downtime is excessive to the point that it justifies the expense of a controls upgrade. When trying to justify that cost, remember that a controls upgrade also offers benefits should line expansion become necessary. The controls supplier and line integrator should assist the stamper in planning for future needs.
"When outfitting a press with new controls, the stamper should decide on a platform (hardware) that it wants to stick with," explains Buehler. "This platform should be easily expandable and accept a form of distributed I/O that isn't proprietary, such as Device-Net or Ethernet. When adding equipment to an existing press line, the stamper should select hardware from the same platform or select equipment that can hang on the same distributed I/O network selected for the controls upgrade."
That said, a control supplier can retrofit the right hardware on added equipment.
"If the equipment is in good shape mechanically, you can make it work electrically," says Buehler.
"A good controls upgrade is all about flexibility," adds Falcone. "Just because a stamper has a properly outfitted press line today does not mean it can take on what comes tomorrow. Perhaps a control system with eight inputs for die protection works for now, but a few years later the process requires 30 inputs. Control systems offer that expandability." MF
See also: Toledo Integrated Systems
Technologies: Pressroom Automation