Clutch/Brake With Built-In Automation
October 2, 2019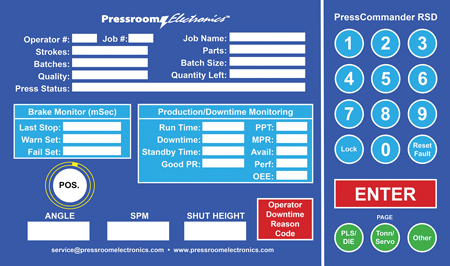 Pressroom Electronics
Booth D45041
Pressroom Electronics shows its Press Commander clutch/brake with built-in press automation. The offering is available in any control panel layout or retrofits into an existing control panel. Standard safety/automation features include:
Heavy-duty resolver with self-checking input on every press cycle with 30 ft. of resolver cabling

Complete system diagnostics and programming

Two force-guided relays for handling major faults such as E-Stop, motion, brake monitor and sensor faults

Password- and supervisory-controlled keyed selector switch for data-entry security

Interrupted stroke provision with indicator

Built-in motion detector and drift fault

Built-in variable-speed compensation

Built-in servo-feed interface.
See also: Pressroom Electronics, Inc.
Technologies: Pressroom Automation, Sensing/Electronics/IOT