Solukon Debuts Automatic Depowdering Software
October 28, 2022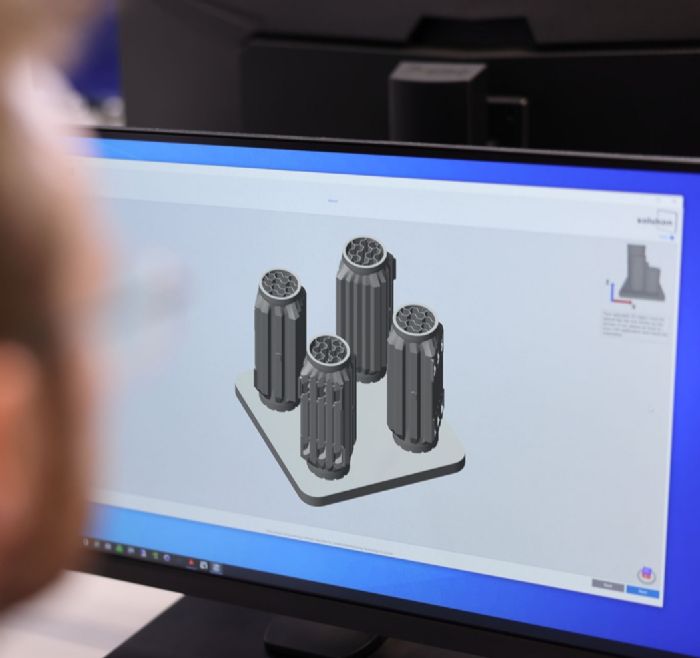 Solukon's new SPR-Pathfinder automatic depowdering software provides for removal of excess powder from complex internal structures during post-processing on Solukon depowdering machines. SPR-Pathfinder uses the build job's CAD file to calculate the ideal motion sequence in the Solukon depowdering system, with calculations based on a flow simulation that analyzes the part's digital twin. The individually calculated motion sequence then is read by the Solukon system, which in turn runs the programmed paths. This ensures that even the most complex parts are cleaned quickly and without any human programming effort, according to Solukon officials.
"In contrast to conventional manufacturing processes, 3D printing uses the part's digital twin," explains Andreas Hartmann, Solukon CEO and chief technology officer. "To date, however, this only has been utilized during the printing itself. With SPR-Pathfinder, the part's digital twin also can be used during depowdering."
Originally developed in a joint project between Solukon and Siemens Technology and unveiled in 2018 as SiDam, SPR-Pathfinder now is available as a license purchase for Solukon customers. Solukon's depowdering technology, Smart Powder Recuperation (SPR), involves automated rotation on two axes as well as adjustable vibration in a safety-controlled atmosphere. The algorithm-based, on-premise SPR-Pathfinder software reportedly calculates the ideal motion sequence for the most complex geometries, finding the best path to allow the powder to flow out completely.
The software currently can run on Solukon SFM-AT800-S and SFM-AT1000S models. In the future, the company expects the software to be compatible with other models, such as the SFMAT350.
Interested Solukon customers have the option to test SPR-Pathfinder free of charge and without obligation by registering at Solukon's website.
See also: Solukon Maschinenbau Gmbh
Technologies: