Take the Time to Simplify and Optimize
A comprehensive analysis of product design identifies where improvements and inefficiencies lie. A metalformer may need to fully redesign a part to optimize it for rollforming, but this upfront time and effort has long-term-payoff potential.
Before production begins, carefully evaluate assembly drawings, part geometry and mating components, and identify ways to simplify the product. Eliminate excess notches or multiple bends in a part, and consider ways to reduce the need for fasteners or laser-cut components.
Designing for rollforming also presents new opportunities that challenge other production methods.
Complex sections often require multiple hits and several production processes to achieve a desired profile. Rollforming often eliminates much of this excess due to its ability to form complex linear shapes and perform secondary operations inline. Rollforming also is well-suited for parts requiring edge conditioning as well as long parts—the process accommodates part lengths beyond 50 ft.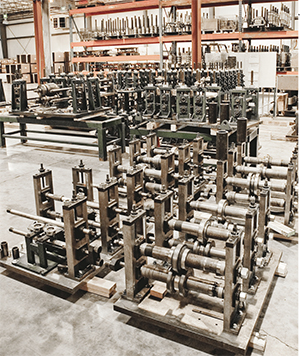 Tooling costs often deter fabricators from traveling the rollforming road, but options exist to reign in this expense.

Evaluating how a part's design can be simplified and optimized for rollforming will reduce costs down the line, and improve efficiency and product quality.

Material selection for a new part or product comprises a crucial element of cost control and design integrity. For rollforming to be most effective, opt for light-gauge high-strength low-alloy or structural steel—material whose physical condition can be manipulated during the rollforming process without losing strength.

More and more, steel is fabricated via rollforming. Stronger steels, at thinner gauges, translate to less material content in a part while maintaining physical properties and strength. This allows fabricators to heat, cool, melt, mold, bend, punch and stamp the material into the desired profile.

Creativity Combats Tooling Costs

For custom shapes, rollform tooling can be engineered to form quality, cost-effective profiles. But escalating tooling costs have deterred manufacturers from the rollforming process.

Some manufacturers have turned to partial tooling investment, which ties up capital on the shop floor. This arrangement often requires additional payment or fees if the manufacturer wishes to use another supplier or bring production inhouse.

Minimize the tooling's business impact by amortizing costs, which stabilizes cash flow while gaining the benefit of a high-volume, long-term production solution. Choose a fabricator that allows you to spread out the investment over time, without accruing interest.

Invest in Prototyping and Testing

Although finite-element analysis can identify problem areas with a proposed part and tooling, a prototype provides true proof of concept. If investing in upfront tooling, also invest in prototyping and real-load testing.

Prototyping helps justify a tooling investment by verifying the design's integrity. It also can be tested in the context of its assembly or interaction with other components that compose the final product.

Consider Forecasting and Inventory

Rollforming is well-suited for higher volumes because setup and labor costs decrease as production levels rise. As a result of high yield, consider the following:

Sourcing—Choosing to rollform may require reevaluating your current sourcing relationship, ultimately altering sourcing contracts or finding a new sourcing partner to accommodate higher volumes. An experienced rollforming partner can consult on how the processing switch will impact sourcing needs and lead times.

Cash flow—To scale operations according to the high volumes best suited for rollforming, consider all costs associated with raw materials, production time, tooling, assembly, prototyping and shipping, and how these factors will impact cash flow.

Demand forecasts—High-volume production presents a smaller margin for error and less production agility. When deciding to rollform, be wary of overproduction. Rollforming is cost-prohibitive for designs with a short lifecycle. Similarly, a highly customized component does not lend itself to rollforming as a single component or as a part that can be produced in mass quantities.

Inventory—With a production schedule calling for larger-volume projects, a metalformer may choose to increase parts inventory proportionally. Excess supply can be a headache if not managed properly. When starting to evaluate an inventory-management plan, consider all options. Offsite inventory and management offers one option for higher inventory. Offsite inventory reduces the amount of needed under-roof storage space and the associated labor costs to manage it. Regardless of where inventory is stored, be sure to maintain close tracking. Keeping comprehensive, real-time inventory records delivers full supply-chain transparency and eliminates waste.

Align with an Expert

Rollforming is complex, efficient and ultimately worth the advanced planning that it requires. To yield its full benefits, choose an expert rollform partner to guide you through the entire product-development cycle. From proactive part analysis to product design and prototyping, to fabrication and assembly, an expert, all-in-one partner can, via rollforming, help take your next metalforming project to the next level. MF

See also: American Roll Form

Technologies: Other Processes