Rollform Tapper Integrates Error Proofing
July 1, 2013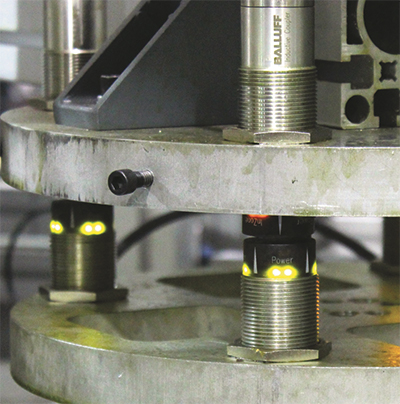 A new four-station rollform tapping machine installed at automotive-parts metalformer E & E Manufacturing of Tennessee, Athens, TN, rolls threads into critical parts such as seatbelt and door anchors. The plant produces dozens of versions of these parts, all requiring zero defects. In the past, E & E would rely on a secondary error-check machine to ensure quality. However, with its new tapping machine it wanted to integrate error proofing. According to engineering manager Larry Joy, "eliminating the secondary operation would more than pay for the integrated error proofing."
Upgrading the machine with in-process error proofing required two new functions: embedded sensors and servo spindle feedback. To ensure that the threads roll and form correctly, spindle feedback monitors torque and embedded sensors in the tooling monitor the stroke.
To complicate matters, the tooling is installed on a rotary index table. To connect the sensors in a modular fashion, E & E called on Balluff, Inc., Florence, KY, which installed its noncontact couplers (see photo) designed to send power and sensor signals across an air gap.
For its application, E & E is powering error-proofing sensors embedded in the interchangeable tooling. As the index table rotates into position, the sensors are powered on and their status sent back to the control system. With no hard connection, the machine is free to rotate beyond 360 deg., as required by the manufacturing process.
If the sensors indicate a bad part, the part routes directly to a containment bin. According to Joy, "we now have complete containment and can eliminate our secondary error-proofing operations."
The noncontact couplers provide an additional benefit when it comes to changing the process over for a new part. The process is as simple as opening the mechanical clamps and exchanging the complete tooling block—no physical cable connections required. This has reduced changeover time from 6 hr. to just 30 min.
Balluff, Inc.: 859/727-2200; www.balluff.com
See also: Balluff, Inc.
Technologies: Other Processes