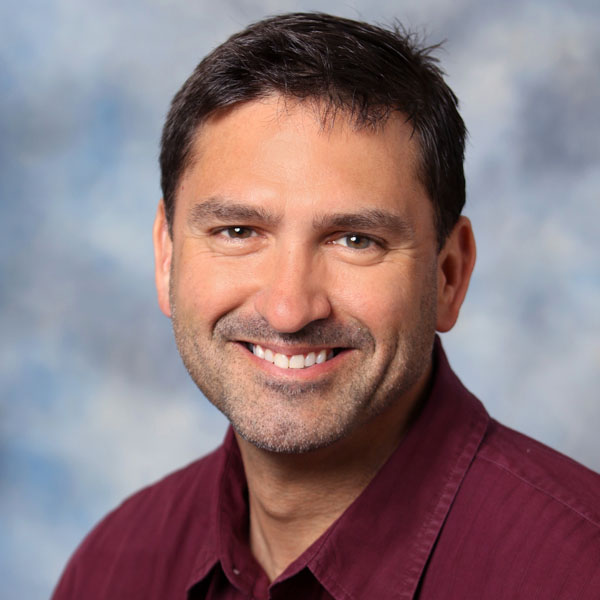 Lou Kren
Add AM to Your Arsenal
August 1, 2017
Alissa Wild is on the front lines. On a daily basis she's witness to the continued permeation of additive manufacturing (AM) into industry, and the reluctance of some in the industry to make that leap. For some, AM is a threat to business. Can metal parts be taken from the presses, cutting machines and other metalforming equipment and instead be produced via printing? Not in the quantities and cycle times demanded by many customers, certainly not in the foreseeable future. Equipment and material costs, combined with the need for extensive post-processing to meet precision tolerances and yield acceptable surface finishes, all argue against a replacement of traditional stamping and fabricating processes. On the other hand, by shifting perspectives, AM can be viewed as an essential tool in many manufacturing operations.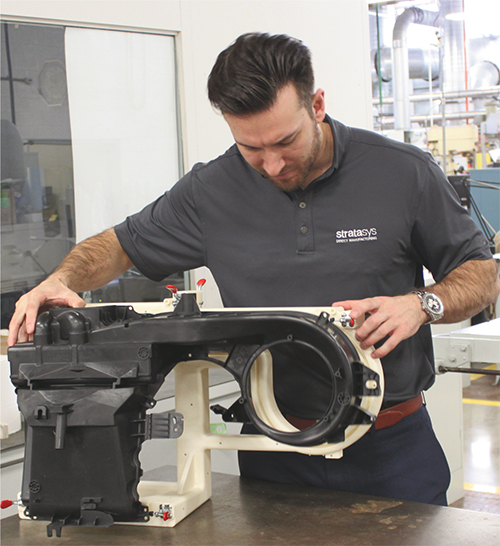 Applications Everywhere
"We see a wide variety of fixturing and tooling applications in manufacturing environments," says Wild, manufacturing aids and tooling lead for Stratasys, a maker of 3D-printing materials and equipment, and a provider of printing services. "Across industries and across facilities we see many departments—assembly, fabrication, health and safety, quality, packaging and logistics—using AM to create all different forms of nonmetallic fixturing, workholding tooling and final-use assembly tooling as well as actual metalforming tooling."
The examples are many. Automotive OEMs and their tier suppliers use fused deposition modeling (FDM, an AM process where filament is heated to a molten state and deposited in layers to build a part) to produce assembly fixtures. The U.S. Navy's repair facilities, Fleet Readiness Centers including FRC East and FRC West, actually use FDM tooling when forming limited-quantity parts in runs from one to 500. End-of arm robotic tooling is another common application noted by Wild.
When Time is the Enemy
Time savings is a big factor when deciding to implement AM, according to Wild.
"FDM tooling helps speed the assembly process in the manufacturing environment," she says. "In other cases, if tooling is out for repair or if a manufacturer is waiting on new metal tooling, it can supplement with FDM tooling. AM fits well whether it's production tooling or as a bridge tool when waiting for permanent tooling. AM is a time saver, cutting the acquisition process from weeks to days, which is a game changer for getting your manufacturing floor up and running. And, in response to a manufacturing problem, obtaining tooling the same day or the next day brings a real competitive advantage for many manufacturers."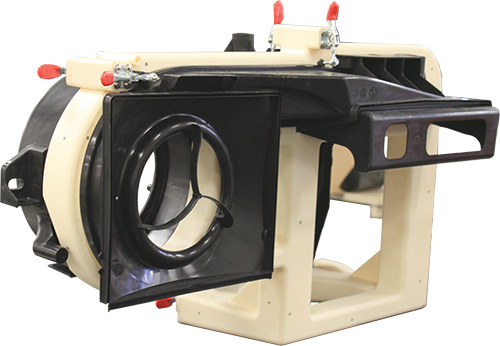 This large inspection tool, more than 3 ft. long and made from thermoplastic material, was designed, printed and delivered to an automotive supplier within one week—a fraction of the time as would be required for a traditional metal tool.
For end-of-arm robotic tooling, in some cases, FDM tooling can be a one-to-one replacement, which is true in other workholding applications as well.
"If you are simply using a nest or cradle to hold a part during a particular operation, an AM-created part may replace the traditional machined resin block," says Wild. "You may even be able to use the same CAD design.
"Obviously, AM has differing design rules," she continues, "but the beauty of additive is that design complexity comes free—there is no added cost. AM offers the advantage of incorporating added features and consolidating components in a fixture design. It depends on the application, but starting with the same CAD file, we may be able to consolidate 30 components down to one or two."
In these cases, AM can help produce what Wild calls "hybrid fixtures," which include, for example, hard contact points for a drill guide.
"The fixture shape will be the same, but metal inserts are placed into the fixture component to address durability and wear concerns," she says. "The CAD process for producing the ideal fixture in AM is very similar to traditional CAD design, but incorporates the freedom and complexity that comes along with designing for additive, where design is not constrained by the limitations of machining and other traditional subtractive processes. The key is learning AM design rules. Just as injection molding and five-axis machining have design rules, so, too, does AM."
Don't Wait for the Pain Point
Experiencing a pain point typically signifies the entrance of manufacturers into the AM realm, according to Wild.
A check tool for stamped automotive seat brackets required a lifetime of 42,000 inspections. The previous tool, constructed via traditional subtractive-manufacturing processes, weighed more than 40 lb. The redesigned thermoplastic 3D-printed tool weighs only 4 lb., with delivery time cut from six to two weeks. Its user reports that the smaller-profile tool enables improved part alignment.
"Such a point may be if the manufacturer needs a tool or fixture in a hurry and the traditional routes take too long or are too costly," she says. "A traditional fixture or tool had never existed or was cost-prohibitive…these experiences often open the door to exploring AM."
The best time to explore AM is prior to having to respond to these pain points, when more thorough research can be performed. In doing such research, you may find all sorts of potential AM applications in your operation.
"We've seen it in automotive companies, starting with a safety or ergonomics issue where someone has to lift a tool off of a shelf and carry it back and forth to a workstation two or three times a day," says Wild.