"DVB's architects had established criteria for these embossed panels," reports Dennis Lowry, Mate's custom engineering manager, "which initially proved unattainable. We then recommended employing a design-for-manufacturing process along with Todrin and DVB. Together we designed just the right forming tool to develop the proper balance of tension and compression on the sheet in order to generate flat, nice-looking finished panels with the properly sized diamond-shaped embossings."
Initially, Lowry had designed a Mate Ultra Tec tool to emboss 1.4 by 2.75-in. diamond shapes on the sheets—of 0.048-in.-thick Type 304 stainless with a no. 4 finish. The fully guided thick-turret Ultra Tec punching tools are designed to optimize tool life and allow interchangeability with existing tooling systems, according to Mate officials.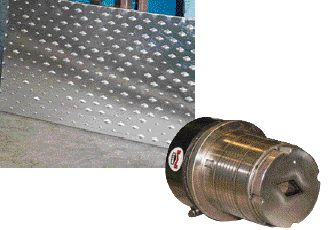 To attain the high degree of consistency and surface finish required of the embossed stainless-steel panels—36 by 60 in., with symmetrical rows of raised diamond shapes across the entire sheet surface —was development of a fully guided forming tool that ensures the proper balance of tension and compression on the 0.048-in.-thick sheets.
Finn-Power ran the new Ultra Tec tool to produce 12 full-size sample sheets, which it shipped to DVB for evaluation. DVB architects approved the process, which led to Todrin acquiring the Finn-Power press along with a full suite of Mate tooling. The tooling package included three additional special Ultra Tec tools for embossing 1 by 2-in., 0.375 by 0.375-in. and 0.562 by 1.25-in. diamond shapes in the required row patterns.
Press Automation Helps Balance Speed, Quality
Todrin's new turret press features load-unload automation, handling, positioning and stacking of sheets before and after punching, which facilitates the project's high volume requirements–2000 embossed panels for the initial project. The press includes a 20-station turret expandable to 100 stations. It can punch hole diameters as large as 3.5 in. with accuracy of ±0.005 in. at press speeds to 1000 strokes/min.
"Consistency of embossing, not speed, proved to be the key to success with this project," states Nichols. "We're operating at below top press speeds to ensure high-quality results because the sheets in the press must line up just properly, and the tools must deliver just the right amount of embossing force.
"Also, the PVC protective coating must stay intact on the sheet," adds Nichols, "not only to protect the sheet during and after embossing, but, if it tears or comes loose, the coating material will gum up the tooling and the machine. Fortunately, we haven't had that problem. The entire project has progressed very smoothly, with nary any scrap nor downtime." MF
Article supplied by Mate Precision Tooling, Anoka, MN; Tel. 800/328-4492.
See also: Mate Precision Tooling
Technologies: Materials