Market Report: Appliances
November 1, 2019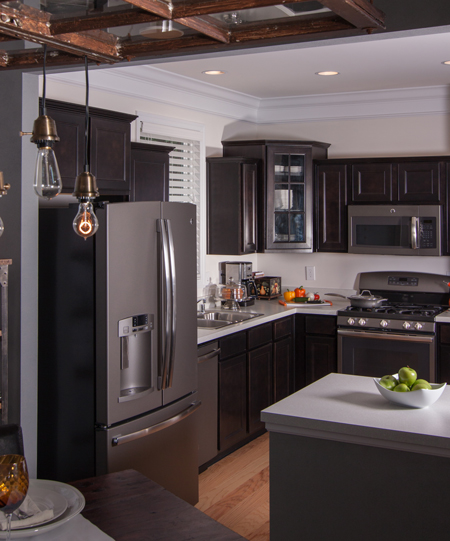 Appliances have become showpiece items, especially those that reside in kitchens. Sleek styling, unique skins and trim, and smart features all are characteristics of appliances these days. Photo courtesy of GE Appliances
The home-appliance industry can be traced back to Jacob Christian Schäffer, who invented a rudimentary mechanical washing machine in 1767. But not until the dawn of the 20th century, and the availability of somewhat dependable electricity, did the creation of appliances for home use really take off. For the longest time, appliances were considered items to be used and not seen―and designed and built as such. But, most notably with kitchen appliances, styling became important.
Today's appliances can be considered showpieces. Wrapped in attractive coatings and materials, they boast sleek contours, energy efficiency and smart technology, all with an eye toward attracting fickle consumers.
Given these characteristics, designers and manufacturers face formidable challenges in delivering innovative appliances. Read on for details on these challenges and how they're met, following a look at market statistics.
Shipments Hold Steady
Shipments of domestic major appliances—cooking, laundry, dishwashers/ disposers, refrigerators/freezers and room air conditioners/dehumidifiers—remained steady at around 79 million units for 2017-2018, and the same likely will hold true for 2019-2020, according to the Association of Home Appliance Manufacturers (AHAM), a Washington, D.C.-based trade group representing a $50-billion industry and whose membership includes 150 companies worldwide.
To understand the importance of appliances to the metal forming and fabricating industries, consider the volume of steel used. For example, nearly 11.5 million refrigerators, each weighing about 300 lb., shipped in 2018, with their steel wrappers and steel components comprising about 75 percent of their weight. Staying on the refrigerator example, units shipped times average per-unit weight equals about 1,725,000 tons. Seventy-five percent steel content would account for 1,293,750 tons.
Value-Added Innovation
"Our industry continues to be essential to the health, welfare and safety of our consumers, as it continues to provide more value-added innovations," says Joe McGuire, president and CEO of AHAM, who recently shared his thoughts with MetalForming on the appliance industry's accomplishments and challenges, and its future. McGuire lists a few of those innovations:
Invisible anti-fingerprint nano (ceramic) coatings to protect stainless-steel facades on refrigerators, dishwashers and ovens.

Myriad controls and sensors monitoring such things as open compartment doors inside of a refrigerator; auto-sensing features on clothes washers that take the guesswork out of selecting the right water settings; and automatic adjustment of cooktop temperatures to help avoid ruined recipes.

Internet-friendly, app-controlled appliances that offer remote starting, stopping and monitoring from smartphones and tablets.