Manual Helps Engineers Incorporate New Advanced Steels into Bumper Designs
September 1, 2013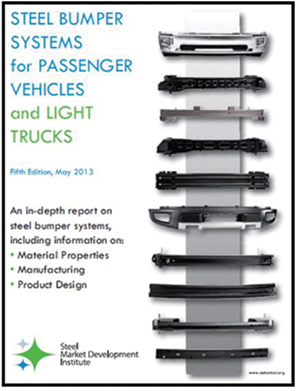 To assist engineers and automakers in applying the most lightweight and cost-effective steel bumpers in passenger cars and light trucks, the Steel Market Development Institute's (SMDI) Bumper Group has released the 5th edition of Steel Bumper Systems for Passenger Vehicles and Light Trucks. The manual offers an updated, in-depth report on steel bumper systems, including information on material properties, manufacturing and product design.
"As bumper systems continue their evolution, automakers require current material, process and manufacturing information to develop the lightweight and affordable solutions required to be successful in today's automotive marketplace," says Ron Krupitzer, vice president, automotive market at SMDI.
The updated manual was designed as a resource to help automakers stay current with the latest automotive industry bumper developments, including structural requirements and test standards. It provides updated 2012 market information on bumper system types, materials and manufacturing processes and includes recent benchmarking information for vehicles up to the 2013 model year.
Originally published in 1998, the current 186-page manual features sections on bumper systems and components, steel materials, manufacturing processes, manufacturing considerations, design concepts and relevant safety standards in North America and Europe. To dow
nload the Steel Bumper Systems for Passenger Vehicles and Light Trucks manual, visit
www.autosteel.org
.
Technologies: Materials