How Valuable Is One Data Point?
March 1, 2008
One data point can be priceless—especially if it provides the last piece of information needed to solve a critical problem or win a million dollars. In the physical world, however, one data point actually defines very little. Through one data point an infinite number of lines—both straight and curved—from any direction are possible. Two data points define a straight line. However, through this line an infinite number of planes are possible. One needs three data points to define a single plane.
Four data points all on the same plane provide a measure of redundancy or validation. Each point is an accuracy check of the other three. However, sometimes too many data points can create a problem. If the fourth data point is out of the plane generated by the other three, a three-dimensional surface exists. Common knowledge tells us that a three-legged table, stool, tripod, etc. is stable. Most everyone knows what happens when a fourth leg of a table or chair differs dimensionally from the other three.
How does this discussion relate to metalforming? Unfortunately, only one data point is the basis for too many critical press-shop decisions. The highest value of strain (amount of deformation) in a stamping triggers a massive effort to reduce the strain at that data point. Unfortunately, a single data point does not provide clues to the cause of the high strain.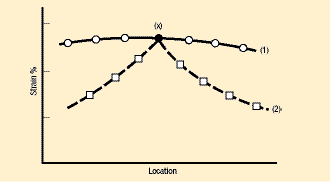 Fig. 1—Two identical peak strains (x) have different causes. Case 1 has an excellent flat distribution of strain but a very high restraint to material flow into the zone. Case 2 suggests some tool feature at the peak strain is the probable cause. A single data point would not reveal this difference.
Fig. 1 shows two possible series of additional data points around the measured data point (x). Case 1 shows six data points with the same level of strain as (x). Reducing the strain only at point (x) is not very effective because the high strain on either side of (x) would remain. This distribution of strain indicates a highly desired uniform level of strain over a large area of the stamping. However, lack of material flow from the surrounding area or excessively high tensile stresses at the ends of the uniform strain zone are causing the high strains.
In contrast, Case 2 shows a highly localized gradient of strain at data point (x). A common cause is an underlying feature in the tooling. Inspection of the tooling beneath any sharp gradient should be the first step in troubleshooting. The tooling feature may be a requirement of the part, such as a sharp character line, a tight bend radius, a small embossment or any other feature requiring sharp lines. Other times the problem feature in the tooling may be independent of the part. Examples include a radius and straight section not meeting tangentially, a joint between two tooling segments creating a sharp line of radius change, or a concentrated change in section lengths. A sharp gradient of thickness reduction usually accompanies these highly localized areas of strain.