Visiting Mickey? Check out the Perforated Sheetmetal on this New Parking Garage
June 1, 2016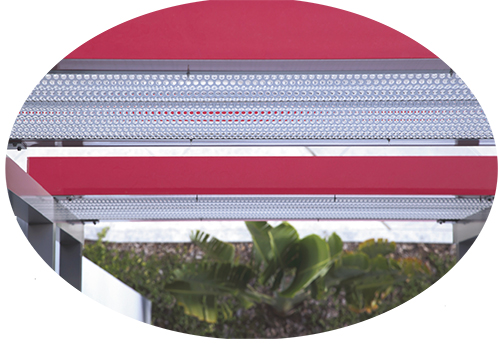 An attractive multistory parking structure has risen alongside Orlando's new 18-story, 400-ft.-tall Orlando Eye observation wheel. Providing breathtaking vistas of Central Florida in all directions, views from the wheel include attractions such as Universal Studios, SeaWorld and Epcot Center. But don't miss the creatively designed, six-story parking garage right next door to the Orlando Eye. The exterior of the parking deck's upper levels features nearly 5000 sq. ft. of perforated 0.032-in.-thick corrugated aluminum panels—Pac-Clad model 7.2 panels provided by Petersen Aluminum Corp., Elk Grove Village, IL.
The panels, fabricated by Petersen's plant in Acworth, GA, are finished in musket gray with round 1⁄2-in.-dia. holes at 11⁄16-in. staggered centers.
"We're seeing more and more perforated-sheetmetal panel jobs, particularly here in the South," says Dave Landis, Petersen's architectural/technical sales manager at Acworth plant.
"The owners wanted to add contrast and depth to the design," adds project manager Neil Rainford.
Petersen Aluminum: www.pac-clad.com
See also: Peterson Aluminum
Technologies: Materials