Study Forecasts Bright Future for Aluminum in Cars and Trucks
September 1, 2017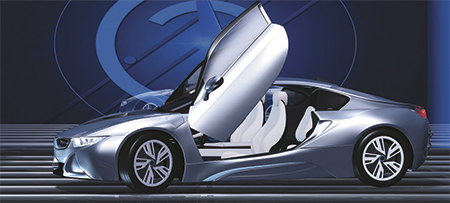 Automakers will increase their use of high-strength, low-weight aluminum in new car and truck construction at a historic pace over the next decade. Total aluminum content will grow from 397 lb. per vehicle (PPV) in 2015 to 565 PPV by 2028, representing 16 percent of total vehicle weight. This according to the study, Aluminum Content in North American Light Vehicles 2016 To 2028, by Ducker Worldwide, LLC, Troy, MI.
The study is based on the firm's triennial survey of automakers, their suppliers, and data from the U.S. Environmental Protection Agency, National Highway Traffic Safety Administration and the Center for Automotive Research. Its findings are consistent with the emerging trend of automakers transitioning to a multi-material-vehicle design approach, and choosing aluminum for doors, hoods and trunk lids, body-in-white, bumpers, and crash boxes.
"To further improve fuel economy, battery range, safety and overall driving performance, automakers no longer default to a single material and instead are pursuing a multi-material design approach where the best material is chosen for the best application. This design evolution is what's driving aluminum's increased market penetration in the auto sector," says Abey Abraham of Ducker Worldwide.
To help sustain this growth, says Heidi Brock, president and CEO of the Aluminum Association, "the aluminum industry invested or committed more than $2 billion to ensure increased capacity in the United States since 2013, and the industry is prepared to continue such investments in domestic manufacturing jobs as demand continues to grow."
2020 Projections
The survey's projections for 2020 are impressive:
North American lightweight vehicles are expected to increase to nearly 9 billion lb., averaging 466 PPV, an increase of 69 lb. from 2015.

Aluminum parts will more than double with aluminum hoods expected to reach 71-percent penetration (as compared to 50 percent today).

Half of total aluminum content growth from 2015 to 2020 will be driven by closures, crash-management systems, steering knuckles and structural vacuum-die-cast parts.

Aluminum vacuum die castings are expected to grow from less than 3 PPV today to 14 PPV.

The average passenger car will contain 362 lb. of aluminum and the average light truck will contain 523 lb. of aluminum.



Survey findings also project a bright future beyond 2020 through 2028. Total aluminum content is expected to grow to 565 PPV (16 percent of the vehicle's total mass) by 2028, with nearly 25 percent of vehicles having partial aluminum body-in-white.
To view the study, visit www.drivealuminum.org.
Technologies: Materials