Noncontact Measurement of Galvannealed, Galvanized Steel Strip
August 23, 2019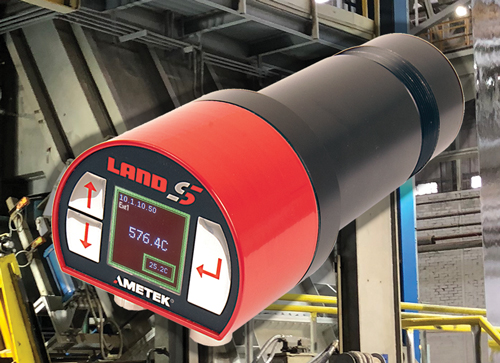 Ametek Land, a provider of infrared noncontact temperature-measurement technology, unveiled its Spot GS pyrometer, designed to accurately measure the temperature of galvannealed and galvanized steel strip. The pyrometer provides continuous and accurate temperature measurement of coated steel strip during the galvanneal reaction, enabling users to accurately measure the temperature in a galvanneal furnace. This allows for optimum throughput rates in order to ensure consistent, high-quality, premium-coated steel, according to company officials.
The Spot GS enables automated furnace management to provide close control of the reaction and position of the reaction zone, delivering tighter control of product quality. By maintaining control of the reaction zone, the pyrometer accommodates rapid changes of line speed and furnace power with variations to substrate or coating weight. This allows for furnace optimization, thus reducing heating costs and maximizing throughput. Additionally, this will avoid excessive over-reaction and powdering/flaking of the coating during subsequent forming operations.
The pyrometer can be integrated with furnace controls, PLCs and control software. It has additional inputs and outputs including emissivity-out and LED switching, which are available as analogue/digital control I/O as well as over Ethernet. Spot GS is available with the free-to-download SpotViewer software, which allows for the configuration, display and logging of data. In addition, Ametek Land offers a range of mountings and accessories compatible with all Spot pyrometers.

See also: Ametek Specialty Metal Products
Technologies: Materials, Quality Control