Anodized Aluminum Finishes the Superdome
December 1, 2019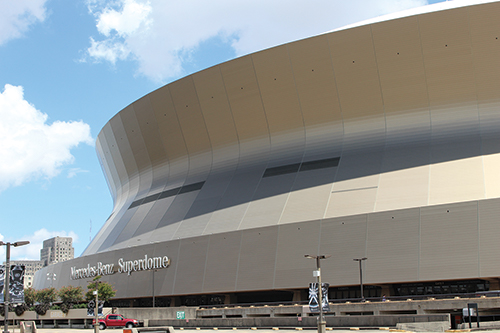 New Orleans, LA, a city known for its resilience, is home to the largest fixed dome structure in the world, the Mercedes-Benz Superdome For more than 40 years, this beloved landmark has symbolized athletic excellence and city pride.
With that in mind, it was only fitting that after suffering significant damage during Hurricane Katrina in August 2005, the Superdome reopened on September 25, 2006, with a Saints victory over the Atlanta Falcons. Yet, despite the favorable football outcome, the process of fully restoring the Superdome had only just begun.
Having gained international recognition during the hurricane's aftermath as a last-resort shelter for 30,000 New Orleanians, the Superdome captured the world's attention as it was reconstructed. The hurricane-force winds had torn holes in the Superdome's roof, sending water pouring inside. Once the stadium was declared structurally sound a few weeks later, the work of cleaning, drying, and restoring the structure to its former glory began.
Restoring such a massive structure as quickly as possible to help get New Orleans back on its feet seemed daunting, but the team of architects and engineers at Trahan Architects evaluated the damage, developed a set of performance-based criteria for the renovation of the exterior of the Superdome, and got to work.
Designing the Supersized Superdome
The exterior of such a premier venue for major entertainment and sporting events—including seven Super Bowls—had to exude excellence and prestige. The criteria included developing a cladding system that would allow for easier replacement and finishing the exterior with a color that replicated the original finish and looked like the New Orleans Saints gold. The team wanted the beauty of the embossed aluminum to show through while also retaining its color for years to come. The material also would have to be formable into the panels and strong enough to pass upgraded wind testing, a precaution for future storms.
The team selected FC Façade panels by Kalzip, an Indiana-based company specializing in metal roofs and wall cladding. These panels were easy to install and replace while also providing impressive strength and important rain screen protection.
Anodized aluminum from Muskegon, MI-based Lorin Industries, Inc. provided the finishing touch—the material to be formed into the Kalzip panels. Trahan Architects in New Orleans tasked Lorin with matching the original aluminum color of the Superdome in order to return it to its original aesthetic appearance of 1975.