Production Tracking System
March 1, 2008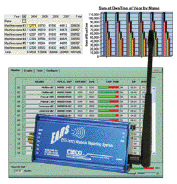 Cieco Inc., Clinton, PA, will showcase its new low-cost wireless efficiency-analysis reporting system (EARS). EARS is a complete production-tracking system —hardware and software—that can eliminate or reduce shop-floor accounting, and transfer information in real-time from machinery where cabled communication is difficult or unwanted.
View productivity status of your machines from your PC and create your own reports in Excel or Access. Track efficiency of your labor time and machine resources, and identify areas for making process improvements.
See also: CIECO, Inc.
Technologies: Management