New Feature-Based Cost-Estimating Module
December 1, 2008
Costimator V9.0 MTI Systems, West Springfield, MA,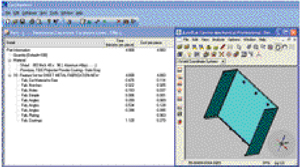 has released a new feature-based cost-estimating module within its flagship product, Costimator. Costimator V9.0 provides users with feature-based cost models for machining and sheetmetal fabrication. Estimating based on part features enables estimators with little or no manufacturing experience to estimate parts, according to MTI officials. Since the feature-based cost models use bottoms-up estimating principals and formulas for speeds and feeds, machine cut/bend rates, etc. to generate cycle times, estimating not only is reportedly faster than traditional methods, but extremely accurate.
Costimator contains a comprehensive database of material speeds and feeds, workcenter specifications and cost models. The software covers hundreds of manufacturing processes, including sheetmetal fabrication, machining, plastics and assembly.
MTI Systems, Inc.: 413/733-1972; www.mtisystems.com
See also: MTI Systems, Inc.
Technologies: Management