Eliminating Over-Purchasing
Under Zephyr Products' previous scheduling system, purchasers often over-bought raw materials, largely because they couldn't tell how much inventory they had on hand or how much they needed for a particular job. Global Shop Solutions now simplifies inventory control. Several times per week, Zephyr Products runs a report that breaks down purchasing requirements and determines what materials are needed to complete jobs efficiently and on time.
"This aspect of the ERP system is more critical than ever today," says James Hettinger, IT and business project manager, "with the dramatic increases in material prices and labor costs. The system helps us accurately adjust our pricing and our quotes to stay competitive yet accurate. And we can requote jobs when necessary, by adjusting for material and labor costs independently as needed."
Zephyr processes some 3000 jobs/month, with lead times anywhere from 4 to 8 weeks. "And, we run more 'rush jobs' than ever before," adds Stone. "About 5 percent of our orders require us to put the pedal to the metal. Here, the ERP system's backward-scheduling capabilities are a huge help with schedule accuracy, as are the dashboards that help keep every department informed on work-center start dates, due dates, order quantities, etc. We use the dashboards in our production meetings, sales meetings, and in shipping, purchasing and quality control—whenever we get together as a management team to discuss customers or specific jobs, we pull up the dashboards."
Meeting Customers' Needs
The management team at Zephyr credits Global Shop Solutions for achieving across-the-board cost reductions and improved on-time delivery rates, and for allowing production to adjust on the fly—reacting quickly to customer change orders. This positive combination of capabilities makes Zephyr Products more efficient and successful. Says Funk, "The ERP system makes us all more efficient and effective. Sitting at my desk, I easily can do the work of three or four people, and that gives us a real competitive advantage."
The perfect and most recent example of this efficiency relates to the firm's most recent capital equipment investment: a new
8-kW Trump fiber-laser cutting machine added in 2018. The firm's fifth laser cutting machine (one of which is a punch-laser combo), its power and speed have added a completely new dimension to scheduling challenges.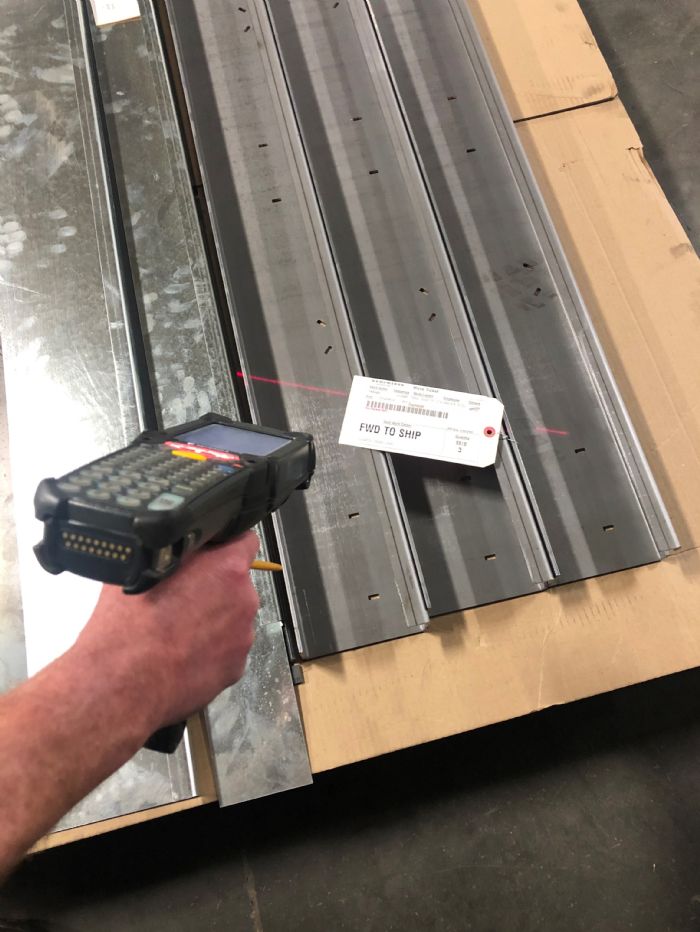 "While the new fiber laser has relieved any bottleneck we had in cutting and has allowed us to grow and take on more work," Funk explains, "it has challenged our nesting and scheduling departments. To keep that machine fed with programs, we had to automate the nesting function, and then integrate our nesting software with the ERP system.
"Now," he continues, "our production programmers use the ERP dashboard to manage workflow through our nesting software—from Trumpf for our flat-sheet cutting machines and Amada for our tube lasers. Using the dashboard, programmers can see which jobs are scheduled to run and can sort them by customer, material type, purchase order, due date, etc. In Global Shop Solutions, we simply click on the jobs that need to be nested and it drops them into the nesting software. It's extremely efficient, with no paperwork involved."
Managing the Shop Floor
As Zephyr has grown and continues to do so at a pace of 10 to 15 percent per year, its ERP system has helped it keep up. So emphasizes CEO Randy Reinhardt.
"On the shop floor, employees clock into every step in a job using a PC running Global Shop Solutions," he says. "We have several graphical user interfaces located throughout the plant. And, we recently added barcode-scanning capability to the ERP software. We can see, using the dashboards, how much time was spent on each process (laser cutting, punching, etc.) for each job. Purchasing also can gain an understanding of how much labor and materials went into a part and look at how cost breakdowns compare with past production. And, our maintenance team can see how long each work center has been down for maintenance over a period of time to help ensure that our production schedule reflects the preventive-maintenance schedule so that our production schedules remain accurate.
"Ultimately, one of the main reasons we selected Global Shop Solutions in the first place was its flexibility and the ease with which we can add new features and functionality," Reinhardt continues. "Outside of our employees, the ERP system is our most important asset; it's integral to every department. It's our central nervous system."
The Move to Mobile
Another example of expanding the use of Global Shop Solutions at Zephyr: GS Mobile, which the firm began to implement in 2020. "Users now can enter data into the ERP software on their wireless mobile devices," explains Hettinger. "A few of our forklift operators have begun to use tablets to manage their tasks and enter data into the ERP system, and the quality department has found applications as well, for example, to inspect parts on the floor and compare them to print, and input that data into the system. And, we continue to explore other mobile opportunities. In addition, we migrated to the cloud in 2018, providing a more rigorous platform that ensures that we receive the latest updates and takes the burden off of our internal servers."
Hettinger describes yet one more element of the ERP platform that Zephyr and Global Shop Solutions have been collaborating on:
"We recently brought our sister company, LPF High Performance Coatings (a powder-coating facility in Kansas City, MO), online with Global Shop Solutions," he says. "Because our facility here in Leavenworth represents at least 50 percent of LPF's business, we decided to develop an inter-company ERP system that Global Shop Solutons will integrate for us, so that we can transfer work to the LPF facility and automate the sales and work-order-generation processes. Once fully implemented (later in 2021), we will be able to automatically create orders at LPF from or purchase orders, and expedite workflow through that shop, with fewer resources needed." MF
See also: Global Shop Solutions
Technologies: Management, Quality Control