Enhanced Automated Quoting System for Fabricators
June 3, 2021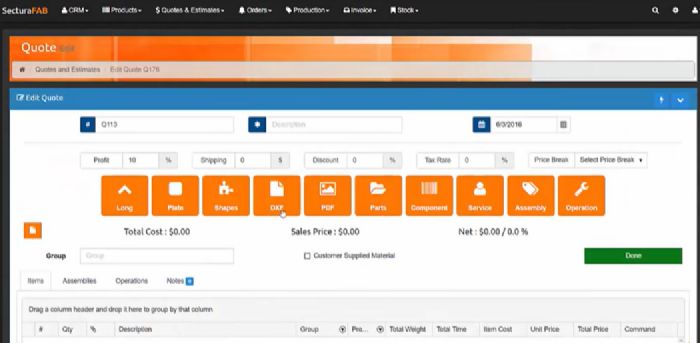 SecturaSoft, LLC, provider of web/cloud-based job-estimating and production-support solutions for the metal fabrication industry, announced major enhancements to its SecturaFab automated quoting system. Expanded capabilities include a comprehensive dashboard that organizes, updates and displays key sales and production data from the shop floor to the front office. Turning data into information, SecturaFab provides fab-shop, job-shop and service-center management with detailed insight to support key business decisions, according to company officials.
Reported additional enhancements include Quick Click buttons for rapid and simple navigation; a hierarchical function for quote reviews/approval, task assignment, follow-ups, etc.; and robust customer resource management functionality.
SecturaFab's quantitative analysis enables management to clearly, accurately and objectively identify top sellers, quote win rates, determine best customers, and pinpoint the most profitable operations to leverage or materials to sell, according to company officials.
"In this digital world, SecturaFab brings analytics into quoting and sales management," says Brad Stropes, SecturaSoft chief operating officer. "These enhancements provide an even more complete sales-management solution developed especially for manufacturers. More importantly, they provide our current and future customers with a tool to make the best-informed decisions with the highest returns on investment."
See also: SecturaSOFT
Technologies: Management, Software