Hydraulic or mechanically driven tools such as riveters, stamping presses and rollformers require exact working temperatures and pressures to maintain strict tolerances and top quality. Inconsistencies in a process line lead to overworked equipment, subpar products and unplanned downtime.
Continuous condition monitoring, available through systems such as Parker's SensoNode sensors and Voice of the Machine software interface, can catch performance fluctuations and record data in real time and in historic timeframes. Today's state-of-the-art systems feature wireless connectivity that delivers comprehensive information. This capability enables plant managers to identify issues before they escalate, reduce downtime and maintenance costs, avoid dangerous situations, improve use of personnel, and record better analytics for better decision-making.
Users can locate smart sensors at multiple points throughout a process line. Examples abound: They can be placed to detect pressure in hydraulic or pneumatic equipment on punching machines and stamping presses, and also fitted to cutting, bending and assembly machines, as well as on hydraulic pressure lines for cutting, stamping, drilling and casting.
Other examples include temperature sensors that check and record inline and ambient temperatures of any production asset to ensure consistency in adhering to strict tolerances. Temperature sensors can be installed on slideforming, rollforming and roller presses, as well as on heating and cooling areas. In addition, humidity sensors monitor and track ambient and inline humidity levels to reduce corrosion on products and plant equipment.
Tap the Cloud to Maintain Operations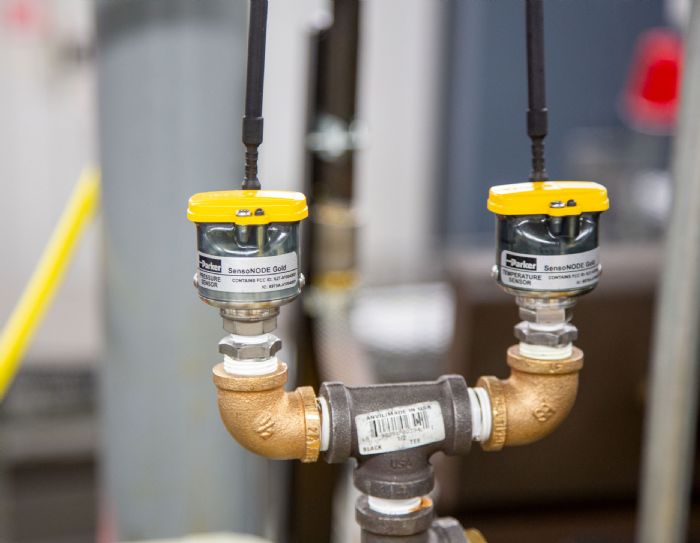 For stampers, fabricators and other metal formers, continuous condition monitoring will become critical moving forward as they work through not only "normal" operations but also during times of crisis.
Cloud-based sensing systems enable plant management and maintenance personnel to monitor equipment from a safe in-plant or home office. Should a future crisis require employees to work remotely, condition-monitoring sensors and software will continue to work-continuously gathering data and monitoring machine performance to maintain productivity.
Today's systems for condition monitoring are based on component-level IoT―security and are readily accessible on any computer or mobile device connected to the internet. Plant managers, technicians and other authorized personnel can access live and historical data on dashboards displayed on their devices.
These systems, simple to set up and use, feature web-based interfaces and require no software to download or update. Alerts can be sent via email, text or in-system, and can be customized, while also permitting review anywhere, at any time. They have been shown to improve safety, measure without interrupting production, and monitor more assets and processes with fewer people.
Vendors experienced in cloud-based systems for continuous condition monitoring can demonstrate the technology that works best with a metal former's or fabricator's specific operation. They will work with a manufacturer's team to determine where advanced sensing will help to ensure reliable operations, and assist in training staff for tracking results and measuring effectiveness.
Today's advanced systems for continuous condition monitoring significantly enhance the prospects for weathering the next crisis and keeping metal forming and fabricating operations productive. MF
See also: Parker Hannifin
Technologies: Management