Insight Core monitors, collects and rapidly transmits electronic weld data to any web-connected device, whereas Insight Centerpoint is an advanced solution that provides real-time operator feedback and process control. And, as described at FABTECH last November, ArcAgent, part of Miller's recent acquisition of Impact Engineering, allows customers with mixed power-supply fleets to implement its welding-information solutions on non-Miller machines.
Also announced at FABTECH was the introduction of Insight Centerpoint's software version 9.0, which includes a new Library Manager tool that better organizes weldment drawings and photos; and a more visual dashboard layout with speedometer-style performance indicators. Other recent improvements include:
• Smart Part Tracking, which automatically calculates the amount of weld metal required based on an operator-input weld symbol and fillet size.
• Standard AWS weld symbols, which help save production and planning time as compared to previous versions that required symbols to be created individually by the user.
With the data from individual welding machines safety stored, management can track and assess how individual machines are performing compared to various departments or the company as a whole.
Both the Insight Centerpoint and Core systems provide a comprehensive main dashboard that allows management to see a composite overview of the welding operation. Among the performance indicators available: machine-status indicators (active or idle); arc-on-time and weld-deposition comparisons and performance relative to goals; and number of welds inside and outside of quality limits. Users can track these indicators by the hour, day, week or month to identify high- and low-productivity periods.
Other dashboards provide graphical displays of productivity and quality. The quality dashboard tracks the number or percentage of welds made within preset acceptable limits for arc voltage and amperage, date-stamps every weld and identifies if quality risks have increased or decreased over a period of time. Managers can even use the collected data to gauge the effectiveness of their welder-training programs.
Compared to Insight Core, Insight Centerpoint delivers more advanced process-control information to the weld cell to help welders manage their processes. Among its unique modules are Part Tracking—a visual HMI that guides the welder through the weld sequence to prevent missed welds; and Work Flow—nonwelding instructions via images, audio and video to help with tasks such as fixture loading and part packaging. And it offers more advanced business-intelligence tools such as OEE reporting and a cost calculator.
The Fronius WeldCube Documentation and Data-Analysis System
Last April, Fronius introduced its WeldCube, a documentation and data-analysis system that connects as many as 50 welding power sources to enable accurate and continuous quality assurance and evaluation of countless parameters. Based on an industry PC with integrated software, the system is compatible with all digital Fronius machines, including the firm's DeltaSpot resistance-welding system and with its TPS/i intelligent welding-device platform. This enables the user to document and evaluate data, including weld current and voltage, wire-feed speed, welding speed and time, arc and dynamic correction, and job numbers.
Users also can continually monitor and evaluate consumption data relating to gas, wire and energy, for example. Set values, such as job data, can be observed and recorded by the system for the entire service life of a welding system. When used in combination with Fronius' new TPS/i welding-device platform, users can edit jobs and make comparisons across power sources.
Lastly, Fronius offers a host of analysis tools to enable timely and reliable troubleshooting. Continuous data analysis can prevent production downtime and increases safety.
The Esab WeldCloud
Making its debut at the Esab FABTECH booth was the new WeldCloud online welding-data management system. It combines 3G mobile-communications technology with Wi-Fi, Bluetooth, GPS and Ethernet to allow users to alleviate firewall and connectivity issues. Running on a company's intranet cloud, WeldCloud is a secure, locked-down system that ensures that data remains totally confidential.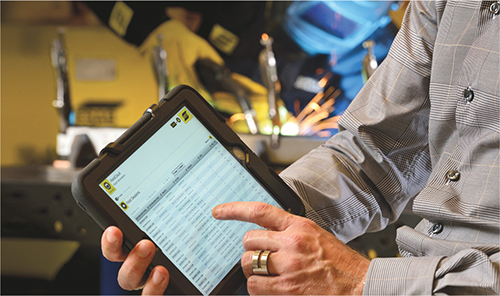 Esab introduced its WeldCloud online welding-data management system at FABTECH, combining 3G mobile-communications technology with Wi-Fi and Ethernet to allow users to alleviate firewall and connectivity issues. The system runs on a company's intranet cloud, and since it uses open-source software, it's easily customized.
Other features, described by global product manager Roul Kierkels, include:
• Traceability. The platform can trace back to welds that already have been created, and provides the details on how and when they were created. Details include welder qualifications and the type of filler metal and shielding gas used.
• Two-way communications. "The platform can actually push settings to machines," says Kierkels, "such as a new weld-parameter combination, and the machines can send data back. This allows shops to create a centralized knowledge base and standardize procedures. And it helps companies deal with a shortage of skilled welders and welding engineers."
• Alert management. WeldCloud automatically pushes out alerts when machines have issues, to trigger actions by the quality and maintenance teams. Users also can set parameter limits and alert engineers and technicians when faults occur, automating much of the quality-control process. "This becomes important as robots begin to take on more welding," Kierkels says, "which means fabricators won't necessarily have eyes on all of their welds."
• Simple integration, with new or existing Esab machines. "Installation and start-up is very intuitive," Kierkels notes. "The system is plug-and-play, and since it uses open-source software, it's easily customized."
• Complete documentation of filler metals, consumables and operator qualifications for individual projects. At FABTECH, Kierkels showed how easy it was to add a bar-code scanner to the system, as an example of how a weld shop can document all of the equipment and personnel used to complete a project.
• Monitor and act upon productivity reports.
• Share and analyze data by teams across multiple data-collection sites.
WeldCloud works with Esab's Aristo Mig 4000i Pulse semiautomatic, Aristo Mig 5000iR robotic and LAF/TAF submerged-arc-welding systems. Users can purchase the systems WeldCloud-ready, or Esab can retrofit most existing systems with a communication module. And, much more than data-recording systems,
WeldCloud integrates with ERP, MRP and other shop-management software packages. Here, adds Esab's global director of strategy Anders Lindh, is where a welding data-management system can move fabricators toward an Internet of Things (IoT) environment.
"Collecting and analyzing welding data has been proven to provide numerous benefits to weld shops," says Lindh. "Now we expect to see companies combine their welding data with other strings of data (WeldCloud works within the ThingWorx IoT platform, for example) and automate big-data analytics."
CheckPoint from Lincoln Electric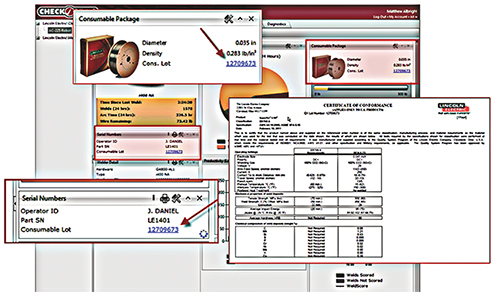 Lincoln Electric's CheckPoint production-monitoring network provides much-needed traceability reporting–which can be accessed in full reporting from a PC or in abbreviated form from a mobile device. This allows fabricators to create records for customer review on welding-consumable certifications, and maintain records for quality initiatives and other similar activities.
Lincoln Electric's cloud-based production-monitoring network, CheckPoint, lets users obtain performance information on their welders and welding operations located in single or multiple locations from any computer or mobile device via Wi-Fi, without the need for specialized software or IT hardware. Users can view the live status of each welder as it sends status updates to CheckPoint during and after each weld. It also employs a proprietary calculation to determine when each welding system will run out of consumable wire, and offers other weld details such as wire-feed speed, voltage and more. Users can search welds via operator ID, consumable ID and part serial number, and also choose tailored reports and analyses.
Welding is an ideal production process for a production-monitoring network of this type, according to Joe Daniel, software development manager at Lincoln Electric.
"In a typical production environment you may have 10, 20 or 200 welding systems," he explains. "It is difficult to know if each system is producing as expected, or if any operators are having downtime issues. That is somewhat due to the nature of welding. Screens and curtains often enclose welding areas, so you can't easily walk around and see everything. One of the big drivers behind the use of CheckPoint is to understand what is happening in these unique, often secluded production environments."
In addition, the network captures audit-trail data to satisfy reporting requirements for ISO, Six Sigma, statistical process control, quality cost delivery, lean manufacturing and other quality initiatives. Of particular benefit is calculation of OEE.
"An OEE calculation, measuring machine availability, performance and quality, can be very useful in understanding the status of a production environment," Daniel says. "Welding systems can vary greatly in the number of welds or the amount of arc time. With a robotic system, we may expect to see thousands of welds per day, but a semi-automatic welding station that also includes some assembly may only generate a couple hundred welds. That is where the OEE calculation is very useful because it allows manufacturers to set equipment availability and performance expectations separately for each of those different types of production areas. The OEE results essentially normalize the data so that users quickly can tell whether equipment is operating above, at or below expectations. It is difficult to achieve that perspective when just looking at weld counts or arc times in a given workcell."
Combining such capabilities with cloud storage further enhances production monitoring in general, and the CheckPoint network in particular.
"Cloud architecture provides ease of setup and accessibility," says Daniel. "No need to set up an application on each user's device or install a server application at a customer's facility."
Accessibility to customized data and reports is another convenient benefit of CheckPoint's cloud architecture, according to Daniel.
"I may have two or three facilities and I want to see an overall picture of my performance metrics," he says. "I easily can place all of that into one site and view it on my computer, tablet or smartphone from anywhere. In addition, users can choose which reports to view and adjust the time range on their reports. They can have daily or weekly views, or customized date ranges. A user also can configure a daily digest, picking desired standard reports and having those delivered to an e-mail address at a specific time each day." MF
Industry-Related Terms:
Core
,
Download
,
E-Mail
,
Fixture
,
Form
,
Gauge
,
Hardware
,
Penetration
,
Run
,
Shielding Gas
,
Spatter
View Glossary of Metalforming Terms
See also: Lincoln Electric Co., Miller Electric Mfg. Co., ESAB Welding & Cutting, Fronius USA LLC
Technologies: Management, Software, Welding and Joining