Deadline Extended: Nominate Women of Excellence in Metal Forming and Fabricating 2023
September 18, 2023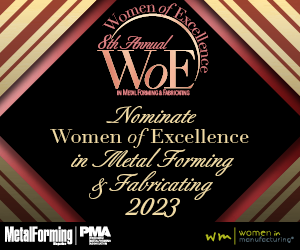 Once again, MetalForming magazine is looking for women in leadership positions or on the shop floor, those who represent dedication to their company and the industry, and demonstrate excellence in meeting their workplace responsibilities.
In conjunction with the Women in Manufacturing Association (WiM), we are seeking nominations for our 8th Annual Women of Excellence in Metal Forming and Fabricating Awards, to run as a special section in our December 2023 issue. The section will feature and honor those selected as a means to recognize and promote the importance of women in the metal forming and fabricating industries.
Nominees should be employed by a manufacturer of metal parts and components, or a supplier to the industry. Winners from past years are ineligible, but previous Honorable Mention recipients can be nominated. Please complete the form in detail (include as much relevant detail as possible to ensure consideration) ASAP as the nomination deadline is October 13. While we will accept more than one nomination from a company, a company may not have more than one winner.
See also: Precision Metalforming Association, Women in Manufacturing
Technologies: Management