1:30–3:30 p.m.
Machine Safety—Alternative Methods for Applying Hazardous Energy Control
Applying Alternative Methods of Hazardous Energy Control for Machine Safety and Productivity, Updates to ANSI Z244.1 Relative to OSHA 1910.147
This presentation reviews the updated Z244.1 language for control of hazardous energy to include the current technology of modern-day safety systems. Learn how to utilize this technology for enhanced operator and machine efficiency in the current production environment.
Ted Sberna, White Horse Safety
Sensor Technology—Eliminating Die Crashes
Sensors for Die Protection—Make Die Crashes a Thing of the Past
This overview of sensors commonly used in progressive dies for preventing die crashes provides real-world sensor applications and covers sensor selection, installation, wiring and programming logic for sensors used to monitor such events as part ejection, material feed, shut height, stripper position, cam/cylinder return, material buckle and other feed problems.
Jim Finnerty, Wintriss Controls Group
Wednesday, November 7
8-10 a.m.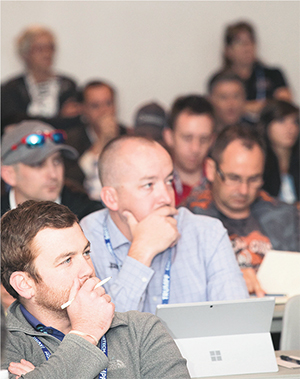 Sensor Technology—Practical Applications

Making Sense of Sensors for Metalforming & Assembly
This presentation shows exactly how to test all types of electronic sensors on a test bench to ensure successful application on the actual shop floor.
George Keremedjiev, Tecknow Education Services, Inc.
Automatic In-Die Part-Quality Monitoring & Tool Adjustments
Implementation of part measurement, die adjustment and part tracking can result in 100-percent verification of critical part features, increased machine utilization, accurate production and scrap rates, and more reliable die protection. Learn practical methods for selecting, applying and integrating sensors and control systems in order to fulfill accuracy and quality requirements.
James Barrett, Link Systems, Inc.
Stamping AHSS Materials
Introduction to AHSS Properties
Advanced high-strength steels (AHSS) offer high strength combined with enhanced formability. This presentation discusses the properties and performance of various AHSS grades and their effects on the stamping process.
Pete Ulintz, Precision Metalforming Association
Taking the Kinks Out of Straightening 1000+ MPa Steels
AHSS (1000+ MPa) can present formability challenges as they have a greater tendency to retain coil set and tighter tolerances between yield and tensile strength. This presentation highlights key considerations, such as components, materials, power sources and design, when specifying a straightener to process AHSS, as well as questions customers should ask of their equipment suppliers.
Hunter Coe and Tom Brockie, Coe Press Equipment
Tooling Optimization for AHSS Applications
Learn about options to improve tool life when running AHSS materials. The discussion will cover tool steels and coatings, how to select the best combinations for your application, and alternative manufacturing methods for tooling, focusing on reducing tonnage and stripping forces for die optimization.
Jeremy Edson, Wilson Tool International
10:30 a.m.–12:30 p.m.
Advanced Pressroom Technology
Applications of Real-Time and Non-Destructive Evaluation Tools to Achieve First-Time Quality Stampings
Real-time and nondestructive monitoring tools have been used widely for various manufacturing processes such as joining and fabrication. This presentation discusses present and possible future applications of real-time and nondestructive evaluation tools to monitor and assess incoming-coil properties, blank-surface finish/lubrication, die stress, part temperature, final-stamping quality such as springback, and geometry tolerances for metal-stamping processes.
Hyunok Kim, EWI
Case Studies of IO-Link Modernizing the Press Shop
Using real-world case studies, this presentation shows how the open standard, IO-Link (IEC 61131-9), helps eliminate downtime in the press shop due to shut height, roll alignment and quick die changes, while improving press maintenance.
Will Healy III, Balluff, Inc.
Solving Progressive Die Problems
Solving Progressive Die Problems: Challenges & Practical Solutions
Solving metal-stamping problems in a progressive die can be challenging. Correct solutions are not always obvious. Even when they are, they seldom address root causes. This presentation provides a methodical approach to solving complex problems associated with progressive dies. Procedures performed with the die in the press are presented to assist in isolating and identifying the root cause of common problems.
Peter Ulintz, Precision Metalforming Association
1:30–3:30 p.m.
Sensors, Controls and Connectivity
Creating a Die-Protection Program on a Limited Budget
This presentation details a low-cost approach to die protection, a topic of interest for shops that avoid formal and more costly sensor programs.
George Keremedjiev, Tecknow Education Services, Inc.
Controls and Connectivity: Collecting and Moving Data from the Shop to the Office
This session shows how to collect accurate, timely and unbiased data automatically from the shop floor and then convert that data into information that flows to ERP and MES systems. Learn to use tools that communicate in real time the status of every machine and process; track KPIs to enable real, measurable process improvements; and notify specific troubleshooters to the existence of production issues.
Jim Finnerty, Wintriss Controls Group
Preventive Maintenance in the Pressroom
Why Preventive Maintenance in the Pressroom?
This presentation discusses proper metal-stamping-press maintenance and its relationship to increasing throughput on the factory floor. Critical functions, areas to be monitored and procedures will be discussed.
Jeff Fredline, Meco

Thursday, November 8
8–10 a.m.
Sheetmetal Properties, Deformation Modes and Simulation Experiments
Material Properties and Deformation Modes: Keys for Solving Metalforming Problems
Understanding material properties, and how those properties respond to stress, is key for solving metalforming problems. This presentation offers a basic understanding of material properties and basic forming modes so that the user can identify and solve metal-formability problems more efficiently and effectively.
Peter Ulintz, Precision Metalforming Association
Design of Experiments in Process Simulation
Process simulation enables engineers to predict metalforming behavior on computers, rather than through shop trials. Software that integrates design-of-experiments (DOE) methods with finite-element analysis allows automated studies of process changes and design iterations with statistical feedback. The presentation focuses on the use of DOE to calibrate, optimize and gauge the robustness of bulk metalforming applications, such as stamping and drawing.
James Miller and John Walters, Scientific Forming Technologies Corp.
Transfer System Technology
Sensing Fundamentals and Technical Sensing Solutions Found in Progressive and Transfer Stamping
This presentation addresses the fundamentals of effective, off-the-shelf sensing solutions/technologies for monitoring processes in progressive and transfer stamping. Also provided: a review of best practices for error-proofing tooling; electronic measurement solutions found in stamping processes and methods for discrete electronic detection; application pictures with specific monitoring scenarios; and a section on RFID systems used for shut-height monitoring and dunnage/cart monitoring.
David Bird and Shawn Day, Balluff
Press Mounted Transfer Systems
A review of through-the-window and front-and-back-mounted transfer selection criteria, coil/blank-width impact, feed considerations, die access, press maintenance, and die and part design are covered during this presentation.
Rodney Naseman, Wayne Trail, a Lincoln Electric Company
10:30 a.m.–12:30 p.m.
Stamping Process Optimization
Best Practices Toward Dimensional Compliance of Stamped Panels
Over the past dozen years, newer grades of AHSS and aluminum alloys have demanded different practices and deeper diligence in dealing with springback than were previously developed for mild steel. The role of virtual engineering in managing springback for these AHSS and alloy materials is crucial. This presentation outlines best practices in leveraging these tools toward acceptable dimensional outcomes, without compromising cost and timing.
Kidambi Kannan, AutoForm Engineering USA Inc.
Apprenticeship Program for Pressroom Technicians
Creating an Apprenticeship Program for Pressroom Technicians
Metal stampers wishing to be more competitive are focusing on the creation of formal apprenticeship programs for their pressrooms. Today's skills crisis has refocused these companies to better train their stamping production personnel. This presentation details successful examples from companies that have achieved exceptional levels of skill sets in U.S. and Canadian pressrooms.
George Keremedjiev, Tecknow Education Services, Inc. MF
Industry-Related Terms:
Alloys
,
Case
,
Die
,
Form
,
Forming
,
Gauge
,
Scrap
,
Shut Height
,
Stripper
,
Stripping
,
Tensile Strength
,
Transfer
View Glossary of Metalforming Terms
Technologies: Management