"Today, the auto industry and the transportation sector at large are undergoing a period of unprecedented change," Pawl says. "The universe of mobility options is expanding, and how those options are designed, produced, owned and used is transforming. The last 10 years have shown a strong domestic auto industry. But the per-capita income for automotive states remains below the national average. A strong domestic auto industry no longer guarantees widely shared prosperity.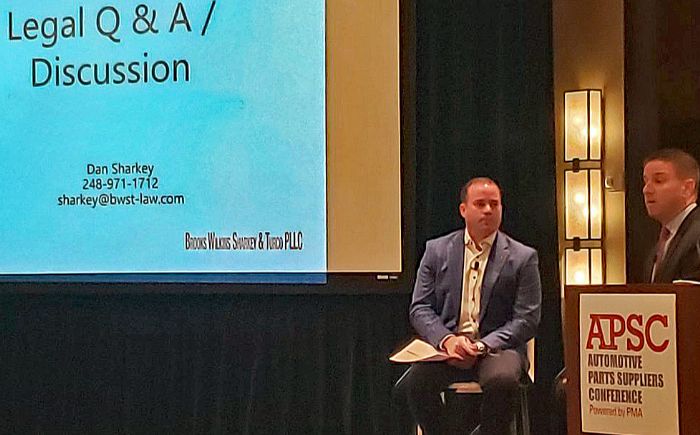 "The last decade also has seen foundational technologies disrupt Michigan's traditional auto industry. This disruption is shifting profit pools and creating new winners and losers along the supply chain. It also has put a more intense focus on innovation and attracting entrepreneurs to the state. The last 10 years also have seen global carbon emissions from transportation exceed carbon emissions from built infrastructure. This has heightened the importance of transitioning from internal-combustion-engine vehicles to electric vehicles."
Margin Compression, and How to Deal With It
The perfect follow up to Pawl's talk is a presentation on what's been affecting the ability of automotive parts suppliers to thrive day to day. That is: the shortage of skilled labor, rising material prices and pricing pressure from OEMs. Taking on that topic: Steve Wybo, senior managing director and automotive practice group leader at Riveron, and a member of the board of directors for two Tier One and Tier Two automotive suppliers.
"Tier suppliers face numerous challenges that threaten to significantly compress margins," Wybo says. "Profits will be tight and harder to come by, so I want to talk during the APSC about how to deal with these things and present some strategies that suppliers can adopt. We're in a unique environment, where strong customer demand is facing off with production challenges."
How can suppliers cope? "The commodity market is tough to control," Wybo says, "but one suggestion is to hedge—do you have a proper hedging strategy, either through your lender or, better yet, through your customer? Can you charge retroactive price increases based on an index such as the U.S. Midwest Hot-Rolled Coil Index (CRU)? Many do, but some don't, and those that try to play the market are playing risky poker. You're acting like a commodity trader and not a stamper. You might guess right occasionally, but in a very volatile market, if you guess wrong you could be in trouble."
On the labor front, Wybo sees some suppliers having success by getting very creative with how they incentivize their employees.
"It's tough to chase people when you're chasing the hourly rate," Wybo says. "The company down the street raises his pay, so you have to, as well, and on and on. There's very little loyalty. Instead, companies are becoming creative with their incentive plans, offering 'equity-like' incentives, profit sharing, etc. If you can make the employees feel like they have a stake in ownership, you're winning."
Forecasting—Everyone's Favorite Topic
…kicks off day two of APSC 2021, with Jeff Schuster, president, Americas operation and global vehicle forecasting, LMC Automotive, tackling the ever-important topic. Schuster has been tracking developments in the global automotive industry for more than 20 years and is one of LMC's primary automotive experts.
"Society, the economy and certainly the automotive industry went through a lot of risk and change in 2020," he says. "There is reason to be optimistic about the path to normal, but what is normal? The industry continues to invest heavily in electrification on a global scale, but today's industry is what is paying for that investment. What type of recovery will transpire? What are the risks to the recovery and when will the industry return to pre-COVID-19 levels? Are there lasting changes from 2020 that will further shape the future of the industry? I'll address these questions within my detailed overview of the global automotive market."
One thing is clear: OEMs and Tier suppliers must continue to work hand-in-hand, partnering to ensure continuous improvement in production efficiency. The ability to continue to recover and shape a prosperous future—in this era of electrification, hybrid designs and development of connected and autonomous vehicles, combined with trade-policy uncertainty—depends on it. To bring light to this critical topic, PMA has devised a roundtable panel discussion, moderated by Steve Horaney, vice president of membership and sales at the Original Equipment Suppliers Association. On the panel:
Megan Hunter, executive vice president, procurement and supply chain operations, Martinrea Intl. U.S. Inc.

Gene Lambert, VP of sales, Batesville Tool & Die, Inc.

Peter Pearce, principal, Baker Tilly Virchow Krause, LLP

Dan Swiger, VP and general manager, Feintool Tennessee, Inc.
Q&A on Legal Issues
You can't have a PMA APSC without a legal discussion with Dan Sharkey, partner and co-founder of Brooks Wilkins Sharkey and Turco PLLC. Sharkey concentrates his practice on supply-chain issues, and has successfully negotiated and litigated hundreds of manufacturing supply-chain disputes, ranging from OEMs versus Tier One suppliers to raw-material suppliers versus lower tiers.
"I'll spend the first part of my presentation updating attendees on some specific legal challenges they face regarding steel, freight, labor, inflation and chips," he says "then spend 30 minutes answering questions on legal issues affecting them upstream with their customers and downstream with their suppliers. We're talking contracts, warranties, tariffs, strikes, recalls, NDAs, payment debits—you name it. Consider this a chance to bring your issues to an industry-leading lawyer with 25 years of experience and a unique understanding of the issues facing automotive suppliers."
Following Sharkey, ASPC attendees will get an inside look at steel's role in future mobility, with a talk by George Coates, chief technical officer of The Phoenix Group, and technical director of WorldAutoSteel, a global consortium conducting industry research for the largest automotive steel suppliers. He has led studies on steel lightweighting for future vehicles and was the project manager/instructor for AHSS Application Guidelines, Versions 5.0 and 6.0.
"Future mobility will be defined by unique powertrains, technologies and architectures, but there are materials challenges in these designs," Coates says. "Fleet owners must offer solutions that also deliver a profitable business model, and the supply chain must deliver on these needs. I will share with PMA's APSC audience insights from a long-term assessment of future automotive trends, and describe World-AutoSteel's newest vehicle program: Steel E-Motive, which explores steel solutions to the challenges presented by mobility as a service, characterized by fully autonomous and connected electric vehicles.
The PMA Automotive Parts Suppliers Conference runs October 20-21 in Detroit. To register, visit www.pma.org/APSC. MF
See also: Precision Metalforming Association
Technologies: Management