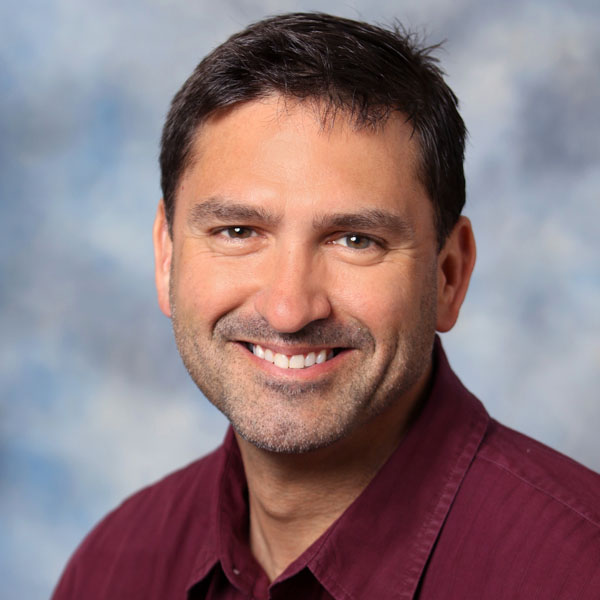 Lou Kren
AMUG Delivers Again
April 29, 2019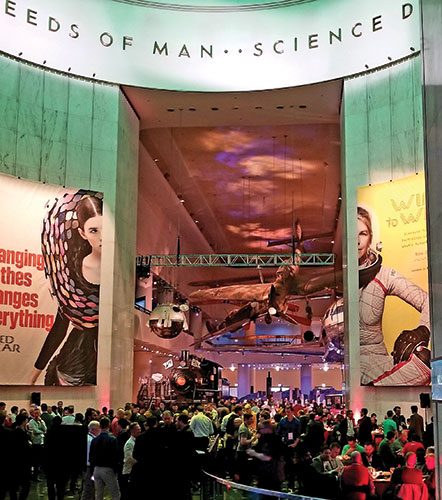 AMUG 2019 included an evening at Chicago's Museum of Science and Industry.
With more than 2000 attendees and 93 exhibitors, the 2019 edition of the Additive Manufacturing Users Group (AMUG) Conference boasted its largest gathering yet, taking over the Hilton Chicago (IL) at the start of April. Across five days, professionals and educators spanning the additive manufacturing (AM) spectrum gathered to share expertise, advice and technologies related to 3D printing, with metal-related topics encompassing yet again an increasing share. Here's a look at what
3D Metal Printing
magazine found. AMUG 2020 returns to the Hilton Chicago again next spring. Find out more at
www.amug.com
as details become available.
AMUG Introduces Scholarship Winners
At the opening of AMUG 2019, the organization recognized the recipients of this year's AMUG scholarships: Wenchao Zhou, Ph.D., an assistant professor in the Department of Engineering at the University of Arkansas (U of A), winner of the Randy Stevens Scholarship; and Victoria Sears, pursuing a master's degree in Bioengineering at the University of Michigan (UM), winner of the Guy E. Bourdeau Scholarship. These scholarships enable Zhou and Sears to attend AMUG 2019, as explained by Brett Charlton, AMUG scholarship chair, who introduced the recipients.
Zhou has multiple roles within the Department of Mechanical Engineering at U of A as an assistant professor, lab director and researcher. Beyond the university, he helps primary and secondary students learn AM through a community-service-oriented and project-based organization called EAST Initiative. In his first year at U of A in 2014, he developed an AM course, which was later selected as a winner of the AM Curricula Challenge sponsored by America Makes. He founded, and now directs, the university's AM Lab, which has invented new technologies, such as Swarm 3D Printing and Assembly, Microheater Array Powder Sintering and high-frequency inkjet printing. Dr. Zhou is also co-founder and CTO of Ambots Inc., a company commercializing the patent-pending Swarm 3D Printing technology.
Sears' research for her master's degree focuses on biological ink for AM. Her goal is to optimize bioprintability and study resulting regenerative properties. She first developed a passion for AM through internships. Working in AM research and development at 3D Systems and Ford Motor Co., Sears acquired firsthand experience with several AM processes; compounded her own filaments; and developed post-processing techniques to improve color and surface finish of power-bed-fusion parts. She also became actively involved in the AM community during her internship at SME, where she supported the Medical Additive Manufacturing/3D Printing Work Group.
The Guy E. Bourdeau Scholarship—founded by his wife, Renee Bourdeau, and financially supported by Cimquest, Inc., is awarded annually to one college student. The Randy Stevens Scholarship, founded by Stevens's employer, In'Tech Industries, is awarded annually to one educator that emphasizes or focuses on AM.
In-Process Quality Assurance for Laser-Bed Printing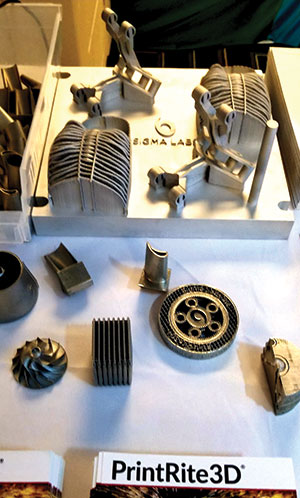 Sigma Labs provided 3D Metal Printing magazine with a close look at PrintRite3D, the company's proprietary in-process quality-assurance technology for laser-bed printing, designed to lower AM production costs through real-time monitoring, analysis, feedback and control.
PrintRite3D is provided as a third-party retrofit package installed on any laser-bed printing machine with capability for machine OEMs to incorporate into their equipment. The nondestructive-analysis technology uses photodiodes to characterize laser light (in the infrared- and visible-light spectrums) and determine thermal signatures of the melt pool, according to Darren Beckett, Sigma Labs chief technology officer. The company dubs the signatures, Thermal Emission Density (TED) and Thermal Emission Planck (TEP), as In-Process Quality Metrics (IPQMs), which allow users to see internal thermal signatures and melt-pool disturbances. TED represents the input process parameters and material response, explains Beckett, while TEP represents the temperature of the region of energy deposition. Both IPQMs are calculated automatically and are available during the process and immediately after build completion.
With these data, users can ensure that printing occurs within set parameters. Should the data reveal out-of-parameter conditions, users will receive warnings in real time and software will identify problem areas on the part.
Software Platform, Supply-Chain Solution for AM
As part of a presentation with HP Inc., Lou Rassey, CEO of Fast Radius, detailed his company's technology platform and manufacturing footprint, which helps customers bring new AM products and supply-chain models to market. The software platform, Fast Radius Operating System, supports customers across the product lifecycle, helping them identify potential applications, conduct engineering and economic evaluations, accelerate new product development, and ultimately manufacture industrial-grade parts in Fast Radius factories at scale with the latest additive technologies. The factories make use of various 3D printing technologies, including HP Multi Jet Fusion machines. Though Fast Radius currently does not inhouse print with metals, it does provide all of its services, including delivery of metal parts through partners, to the metal AM community.
On hand at the AMUG presentation were representatives of Yanfeng Global Automotive Interiors and the U.S. Marine Corps, who provided details on AM assistance provided through Fast Radius' Application Launch Program (ALP). According to Rassey, a gap exists between AM technology and demand from end users, essentially a lack of an industrial supply chain. The company aims to fill that gap by building a technical solution, assessing and refining a business case for AM to deliver needed products, and determining and organizing departments within affected companies deemed integral to success of AM projects. The presentation highlighted the HP-Fast Radius ALP.
The collaboration has delivered a number of developments. Husqvarna Group, a manufacturer of outdoor power products, is moving parts in its spare parts catalog to the Fast Radius Virtual Warehouse, where they can be produced using HP's Jet Fusion 3D printers and shipped on demand as needed. And, Yanfeng is employing AM and HP Multi Jet Fusion technology to provide advances in driver experiences for today's and tomorrow's vehicles. Also, the U.S. Marine Corps reports significant strides with AM , including HP Multi Jet Fusion technology, to enhance its readiness-now capabilities.
Software Simulation Yields Successful Missile-Part Build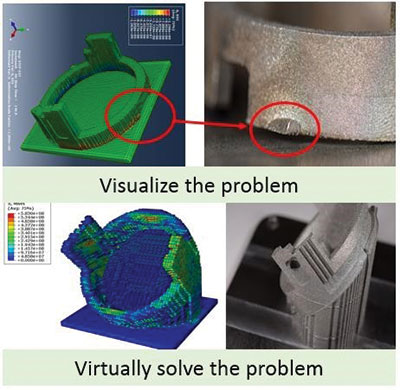 Collaborating on a Missile Defense Agency Phase II contract, AlphaStar and Raytheon set out to predict the AM process and service loading of an as-built 3D printed part. Together, the teams looked to hash out many part issues before print, thus saving time, lowering risk and reducing the material scrap rate. Key to the project's success was employment of AlphaStar's Genoa 3DP Simulation, an AM design tool and software suite that simulates the 3D printing process to predict deflection, residual stress and damage initiation.
The project was detailed in a presentation at AMUG.
"With the promise that laser powder bed fusion has in AM, there also are major pitfalls, such as defects, unmet net shape, high warpage, residual stress and surface roughness, void formations, and inconsistent density just to name a few," explains Cody Godines, structures group leader at AlphaStar and project co-leader along with senior mechanical engineers Isis Roche-Rios and Alicia Leslie of Raytheon. "We were able to simulate all of these with the Genoa 3DP tool within the Ansys framework before printing."
Another key component of a successful build: prediction of thermal history, material state and process maps.
"We found that knowing all of this information beforehand," explains Leslie, "sets up for a successful final simulation with multi-objective optimization of the component and support structure to minimize mass and scrap rate while minimizing the pitfalls of AM."
HP Announces Wide Availability of Metal-Part-Printing Service
HP Inc. announced the wide availability of its Metal Jet Production Service for final-parts production. The company's digital-manufacturing portfolio includes the HP Metal Jet for high-volume manufacturing of production-grade metal parts, providing higher production speeds than other methods, according to company officials.
Users, via the service, now can upload 3D design files and receive functional metal parts in large quantities. The parts are produced by HP partners GKN Powder Metallurgy and Parmatech. These efforts were detailed in an AMUG presentation, led by Tim Weber, global head of HP's Metal Jet business.
The company also presented at AMUG on its work with AM-supply-chain enabler and part provider Fast Radius. This presentation highlighted the company's nonmetal Multi Jet Fusion technology.
"More than 10 million parts were produced on HP's Multi Jet Fusion technology in the last year," says Christoph Schell, HP's president of 3D printing and digital manufacturing, noting that the company continues to expand its metals and plastics portfolio across both prototyping and production, and build out its community of global partners.
Stratasys Expands Capacity With New Velo3D Metal Printer, Print-Prep. Software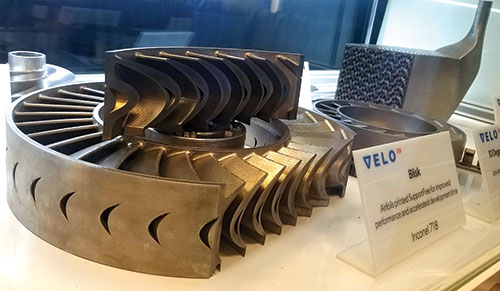 Stratasys Direct Manufacturing, a Valencia, CA-based provider of 3D printing services, has expanded its metal-printing offerings with the addition of the new Sapphire 3D print system and Flow print-preparation software from Velo3D.
The solution's built-in tools include support generation, simulated print predictions, per-surface process application, slice composer and process review. This functionality reportedly allows for 3D printed production of complex metal components with high levels of quality control.
"The Sapphire system from Velo3D is an important part of advancing our capabilities to include using additive metals in applications and geometries previously challenging to 3D print," says Kent Firestone, CEO of Stratasys Direct Manufacturing. "This is a natural step in building our service portfolio, and we are excited to take on projects with more complexity to drive further adoption of serialized production additive manufacturing and push the boundaries of 3D metal printing."
Velo3D offers an end-to-end metal-AM solution comprised of the Sapphire system, Flow software and Intelligent Fusion technology. Together, the solution helps users meet challenges that include product-design limitations, part-to-part consistency, process control and cost-effective manufacturing, according to Velo3D officials.
The Sapphire laser powder bed metal additive 3D printing system is designed for high-volume manufacturing. It reportedly can build complex geometries, including designs with overhangs of less than 5 deg. and large inner diameters without supports. To deliver part-to-part consistency, Sapphire's integrated in-situ process metrology enables closed-loop melt-pool control, and the system contains a module that enables automated change-over with offline unpacking.
Flow print-preparation software includes support generation, process selection, slicing and simulation of complex part designs to validate execution feasibility before the build. Geometrical feature-driven processing enables low angles below 5 deg. In addition, deformation correction technology enables the user to produce parts without the need for iterations, achieving a first-print success rate to 90 percent, according to Velo3D officials.
Enabling an end-to-end integrated workflow, Intelligent Fusion powers the Flow software and Sapphire system, optimizing the AM process by combining thermal process simulation, print prediction and closed-loop control during print execution.
At AMUG, Velo3D showcased numerous parts produced on the Sapphire using Flow software, including an Inconel 718 bladed disk featuring airfoils printed support-free (pictured).
New Printing Process Promises Simplicity, Quicker Parts
Digital Alloys provided 3D Metal Printing magazine with an overview of its Joule Printing technology that makes AM a viable production option for parts larger than the size of a baseball—"the sweet spot for this technology," according to Duncan McCallum, Digital Alloys CEO. As he explains it, current methods take too long to be practical, or require the use of dangerous materials, specialized hardware, and multiple complex finishing steps involving shrink compensation software, chemical baths, and furnaces.
The process employed by Digital Alloy, via two inhouse printers as the company currently prints customer and partner parts on two-dozen orders while it readies printers for commercial sales, uses commodity wire as the raw material rather than powders and reportedly works with any metal in wire form. The technology essentially is a simple, high-speed process—the company holds three patents on it—for melting wire into needed shapes, says McCallum.
It works as follows:
Rapid, precise motion and wire-feed systems position the tip of the wire in contact with a desired printing (melting) location. Once the wire is positioned, the system pushes current through the wire and part being printed and into the print bed. The current melts the wire tip using joule heating (aka resistance heating, the same physics that heat a coil in a toaster, according to company officials). Melting and wire feed continue while the print head moves, laying down beads of metal that are fused together to form fully dense metal parts.
Key to this process, positioning and melting of the wire occur simultaneously in a single step. This simplicity reportedly lowers cost, saves time and increases repeatability, with no need for powder handling, feeding and spreading; no need for binding/debinding; and no need for sintering.
As the wire melts from within, no time is required for heat to move to where it's needed—melting occurs instantly, exactly at the desired location, according to company officials. Digital Alloy's first system leverages this to print at 5 to 10kg/hr. at low power, less than 1 kWh/kg., offers McCallum, noting that the technology lends itself to simplified in-process quality control.
Rapid Stress and Distortion Prediction and Much More in Sim. Software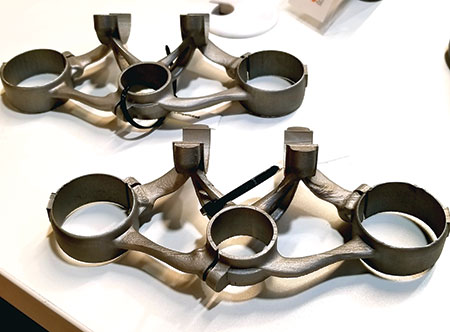 A visit with Ansys provided a discussion on the importance of stress and distortion prediction, and an overview of the company's complete simulation workflow for AM that allows users to transition metal-AM R&D efforts for metal AM into manufacturing operations.
The comprehensive Ansys Additive Suite spans the entire workflow, from design for AM through validation, print design, process simulation and exploration of materials. The available meshing options allow for creation of a connected, layered mesh that captures fine details of model geometry and accurately accounts for small features. Users have full control over build steps and now can add heat-treatment and support-removal steps to provide a more complete simulation of the AM process. The suite is available as an add-on to the Ansys Mechanical Enterprise license.
And, simple-to-use, stand-alone Ansys Additive Print software includes the ability to upload supports generated by other software tools. Additional materials, such as heat-treatable wrought aluminum alloy Al357 and titanium Ti64, are available for high-fidelity thermal simulations. Additional solver enhancements include faster simulation times and improved robustness for thin-walled structures. Additive Print can predict final printed-part shape, and layer-by-layer distortion and stress. Pictured is a part resulting from the use of distortion and stress prediction, with the part below not benefitting from these predictions.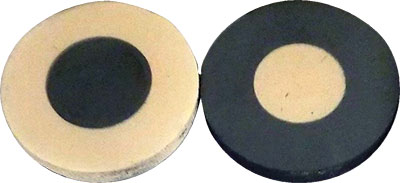 XJet Part Holds Promise for Future Electronics Applications
XJet Chief Business Officer Dror Danai teased the future of the company's Nanoparticle Jetting technology at an AMUG conference session, revealing that an XJet machine had printed a ceramic-metal part, specifically, a zirconium-stainless 316L test disc. Electronic applications abound, but are years away, as R&D must jump numerous hurdles. A big one: differing shrinkage percentages across materials when sintered.
SLM Solutions, Identify3D Collaborate for IP Security in AM Digital Supply Chain
Announced at AMUG: First collaborating in 2018, Identify3D and SLM Solutions have expanded their cooperation, resulting in products for securing intellectual property (IP) in the AM process chain. Identify3D software includes modules to protect, manage, enforce and trace data between design and creation on selective laser melting machines from SLM Solutions. Data are secured in encrypted files, defending against counterfeit procedures and the loss of IP, and offering owners traceability of their designs as well as the transparency in knowing who is utilizing the files. Qualified processes are locked to limit operator error and ensure compliance, repeatability and quality control.
"Identify3D software integrates into users' current workflows but offers a new level of process security," says Stephan Thomas, Identify3D co-founder and chief strategy officer. "Manufacturers can implement different strategies to limit the number of times a part can be printed, set an expiration date on the design and automatically delete files from machines after a build. Validity checks allow an audit of the design throughout the selective laser melting process."
Says Dr. Gereon Heinemann, chief technology officer of SLM Solutions Group AG: "SLM Solutions recognizes the trend as additive transforms manufacturing into a digital workflow. By working together with Identify3D, we aim to offer users not only robust manufacturing systems, but a strategy to integrate both security and traceability, which are essential elements to production manufacturing processes."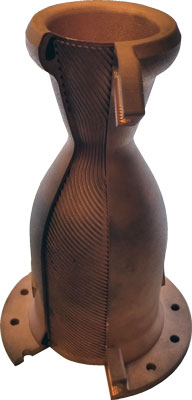 R&D Yields Shape-Memory Materials, Unique Rocket Parts
At AMUG, EOS focused on its formidable material capabilities and development efforts for direct metal laser sintering, with Ankit Saharan, manager of R&D and applications development for EOS North America, providing an overview. He demonstrated shape-memory attributes of Nitinol, a nickel-titanium alloy, reportedly offering super-elasticity and better biomechanical and physiological compatibility than Ti64. Shape-memory alloys have numerous applications in medical and aerospace applications where temperature changes can trigger adjustments in part geometries. Saharan also highlighted a Launcher E-1 rocket-engine chamber, produced on an EOS M 290 metal printer using a copper (CuCrZr) alloy (pictured). Cooling for the engine requires 57 internal spiraling cooling channels, with a variable cross-section as small as 0.6 sq. mm at the throat location. Production of the chamber via AM brought cost and lead-time reductions as compared to traditional processes. The locations, geometries and sizes of these cooling channels make AM the ideal, if not the only process to produce these parts, he reports.
Software Promises Quicker, More Powerful CAD-to-Print Workflow
Dyndrite made a splash at AMUG with its rollout of the Dyndrite Additive Toolkit, designed to provide an optimized, integrated CAD-to-print workflow where users can orient, position, lightweight, generate supports, slice, and hatch. The software drives the additive process directly from CAD files, bypassing the limitations of STLs—that means no more repairing or constant importing/exporting, according to company officials. A newly designed graphics processing unit (GPU) reportedly provides for computational geometry in minutes or seconds as compared to days or hours as when employing older GPUs. The software promises sophisticated and rapid support generation with users having access to fine control over geometry and parameters. And, through the Python application programming interface, users can customize and codify complex workflows on their own without revealing intellectual property.
Overall, according to company officials, the Dyndrite platform can reduce build-prep. time, provide control over parameters and improve output quality. 3DMP
Industry-Related Terms:
Scrap
,
Spectrum
,
Surface
,
Void
,
Wire Form
,
Wrought
,
Model
,
Scale
,
Alloys
,
Aluminum Alloy
,
Bed
,
CAD
,
Case
,
Checks
,
Color
,
Form
,
Functionality
,
Hardware
,
LASER
,
Mesh
View Glossary of Metalforming Terms
See also: Ansys, Inc., Stratasys, Inc., EOS of North America, Inc., SLM Solutions NA, Inc., Sigma Additive Solutions
Technologies: